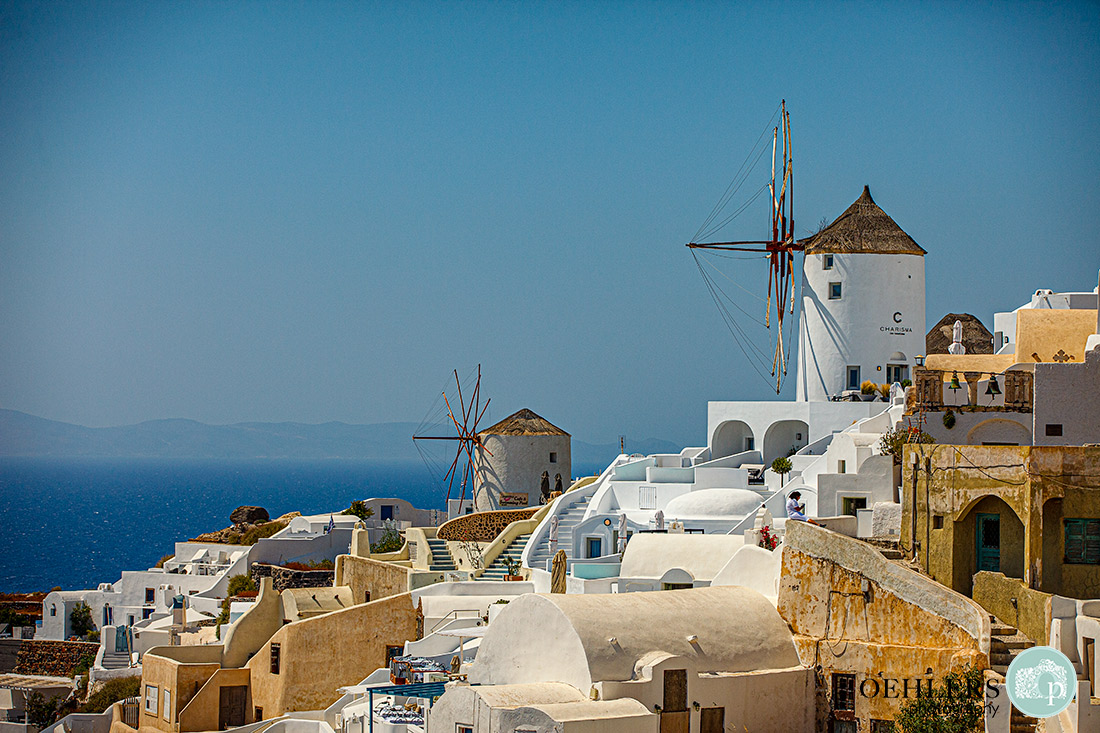 Destination Wedding Photographers – Santorini – Katie and Adam.
We love being Santorini Destination Wedding Photographers. It is always a previledge to be asked to photograph a wedding abroad. So far we have been to Italy, Sweden and Kenya. This time it was to experience a wedding on the Greek island of Santorini in the Aegean Sea. We could not wait as it was on our wish list of places to photograph weddings. Here is the link to see other places on our wish list .
The Destination Greek island of Santorini.
Santorini is one of the Cyclades islands in the Aegean Sea. The island got its present half-moon shape in the 17th century when a severe volcanic eruption took place. Today half of Santorini's caldera is submerged, which makes it the only sunken caldera in the world. The most marvellous thing about Santorini is the architecture of the villages, built right on the edge of the caldera. These picturesque villages distinguish for their sugar-cube houses, the paved streets, the wonderful churches with their distinctive blue domes and most of all the breathtaking view of the Aegean Sea. It is an ideal place to get married. Katie and Adam decided to do just that.
Destination pre-wedding 'Get to Know You' shoot.
As we always do with all of our weddings, whether it be home or abroad, we have a 'Get to Know You' shoot. Santorini has lots of locations for photographs which made it very difficult to choose where to go. However, we had to think around the wedding and reception location to make it viable. We came across Megalochori Village which was an ideal spot. It is a labyrinth of winding alleys, whitewashed houses and blue domed churches with ornate bell towers. We spent a couple of hours taking photographs of Katie and Adam as well as scouting out places to have shots on their wedding day. The shoot ended up at Perissa Beach, after sunset, where they were staying.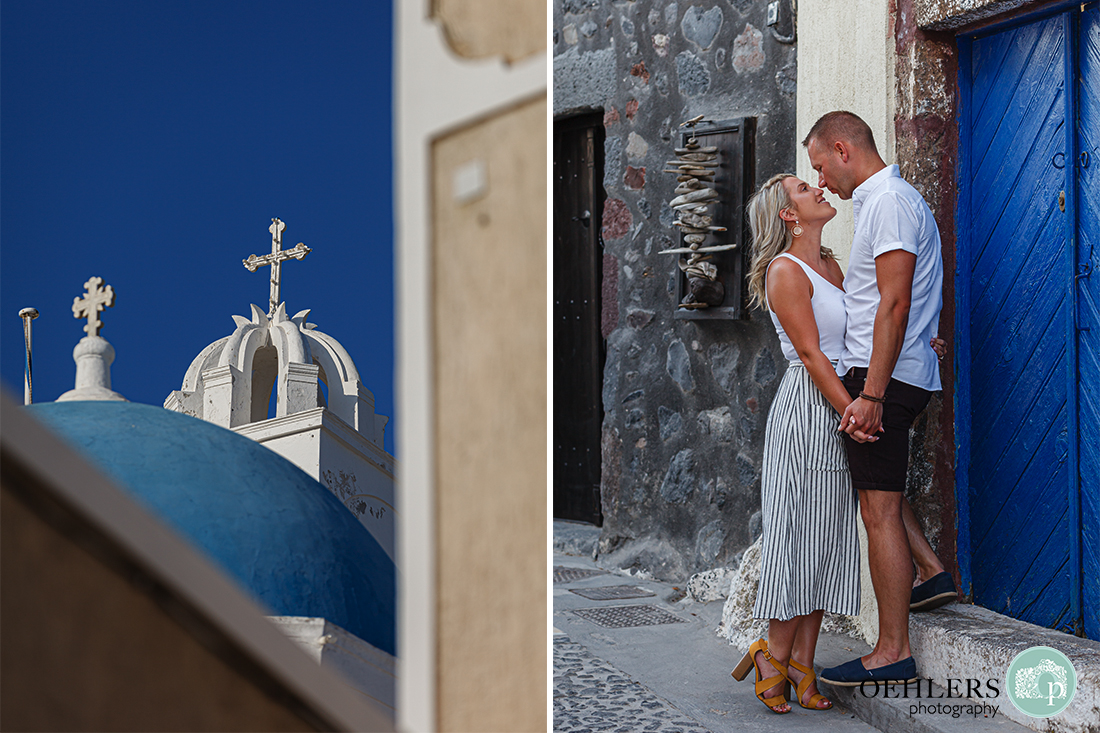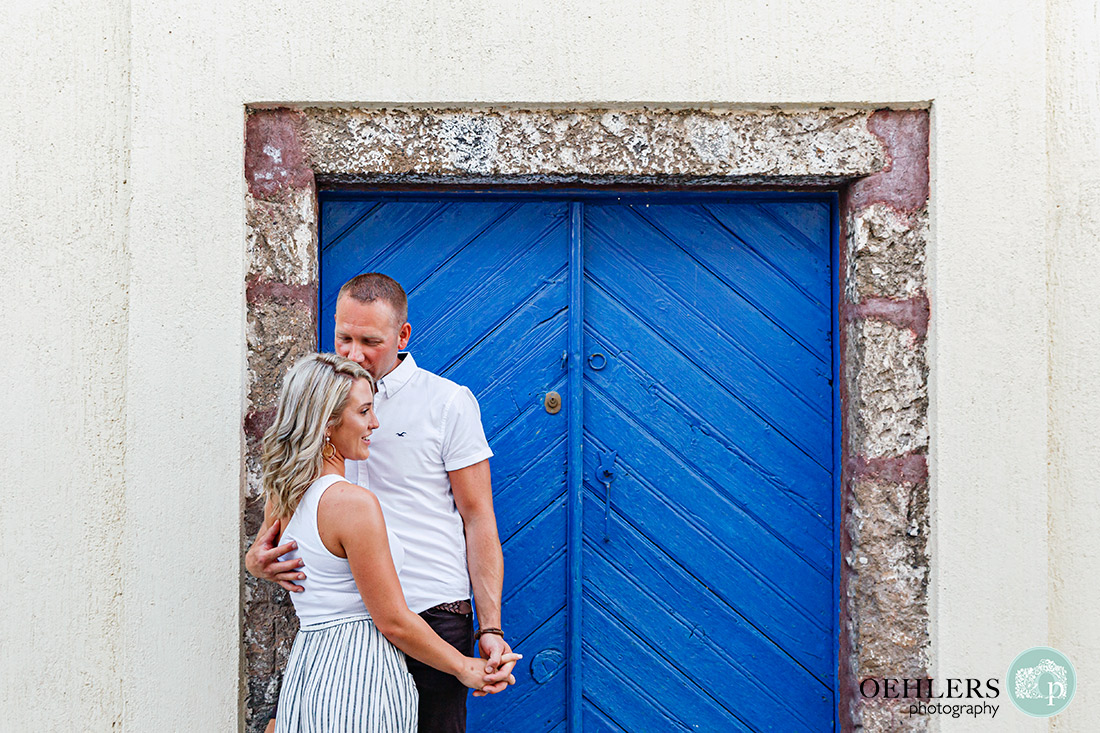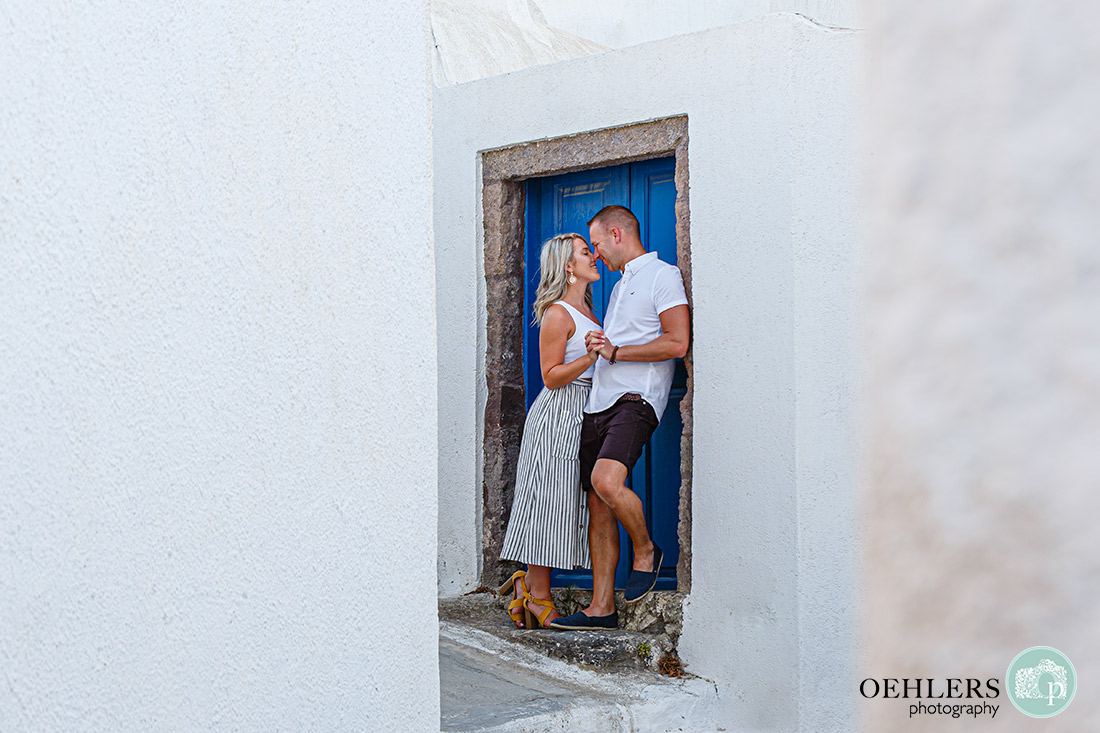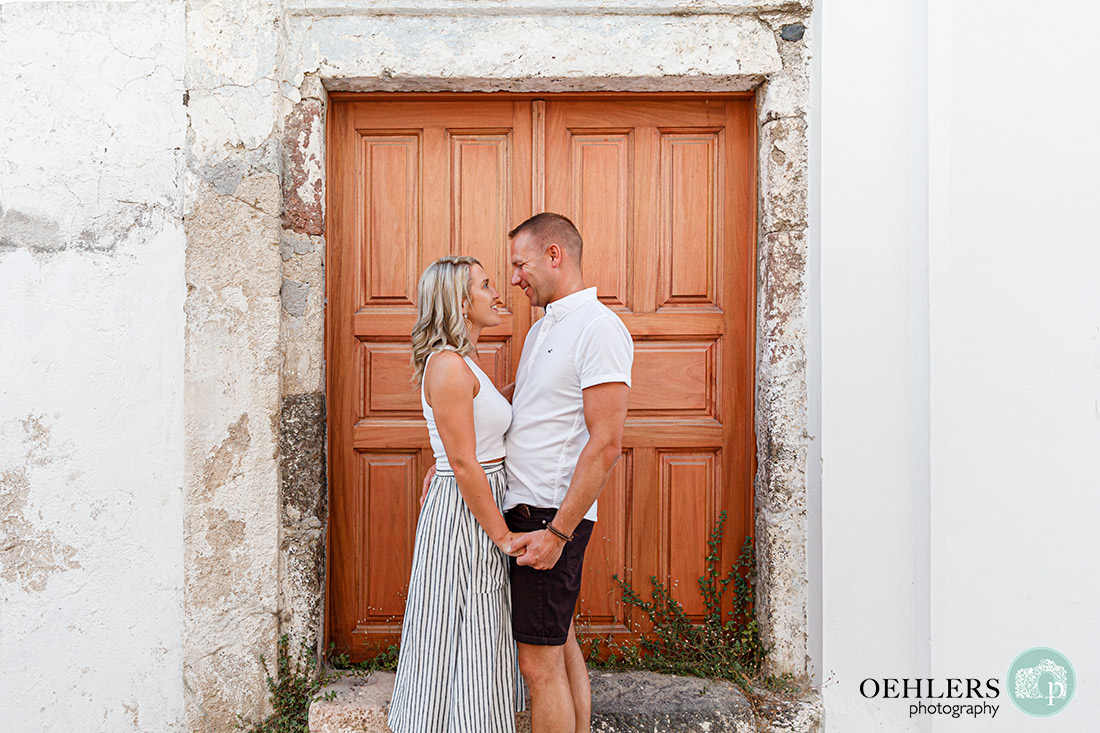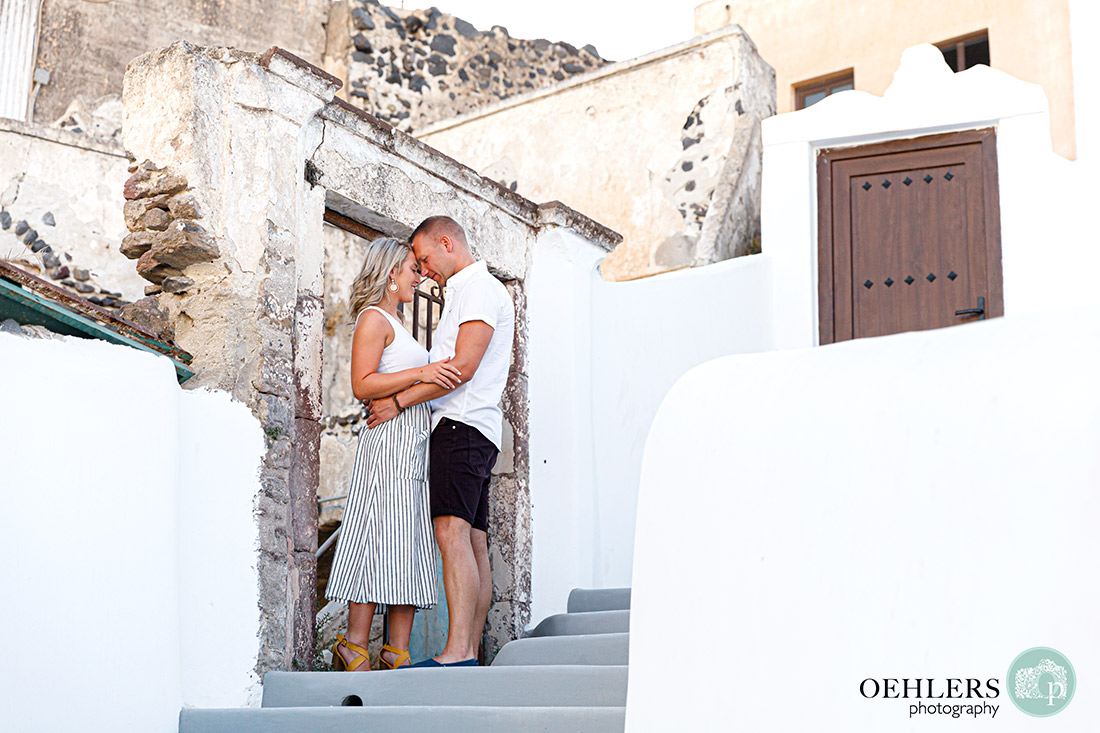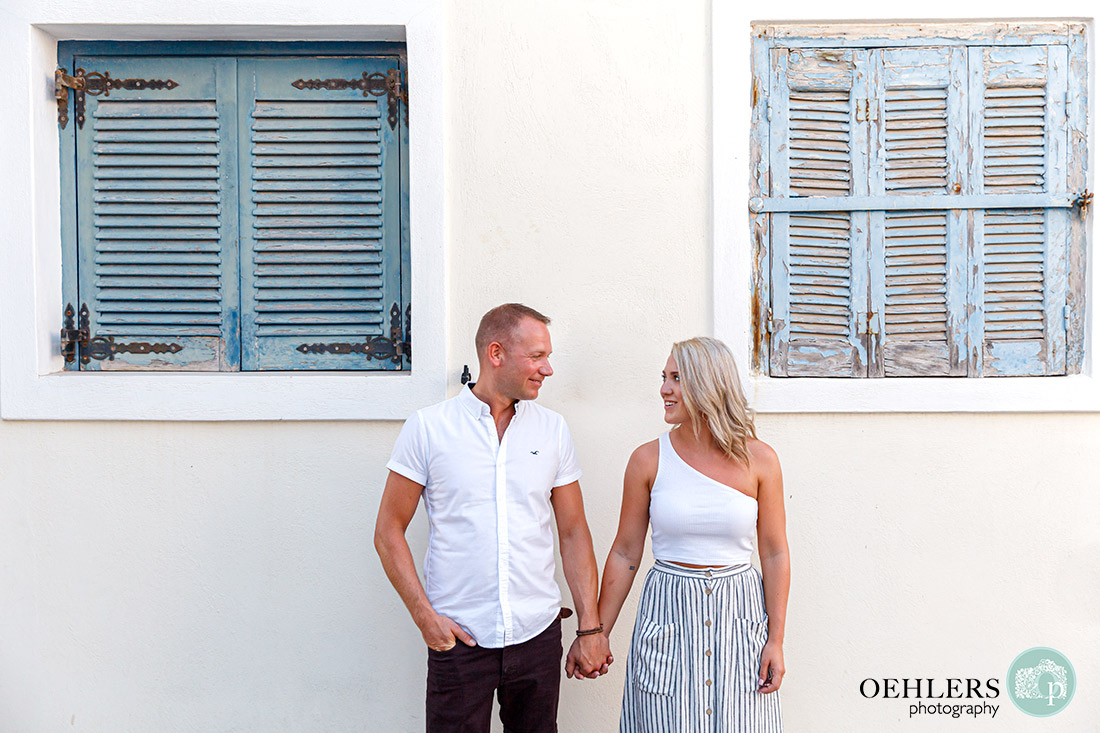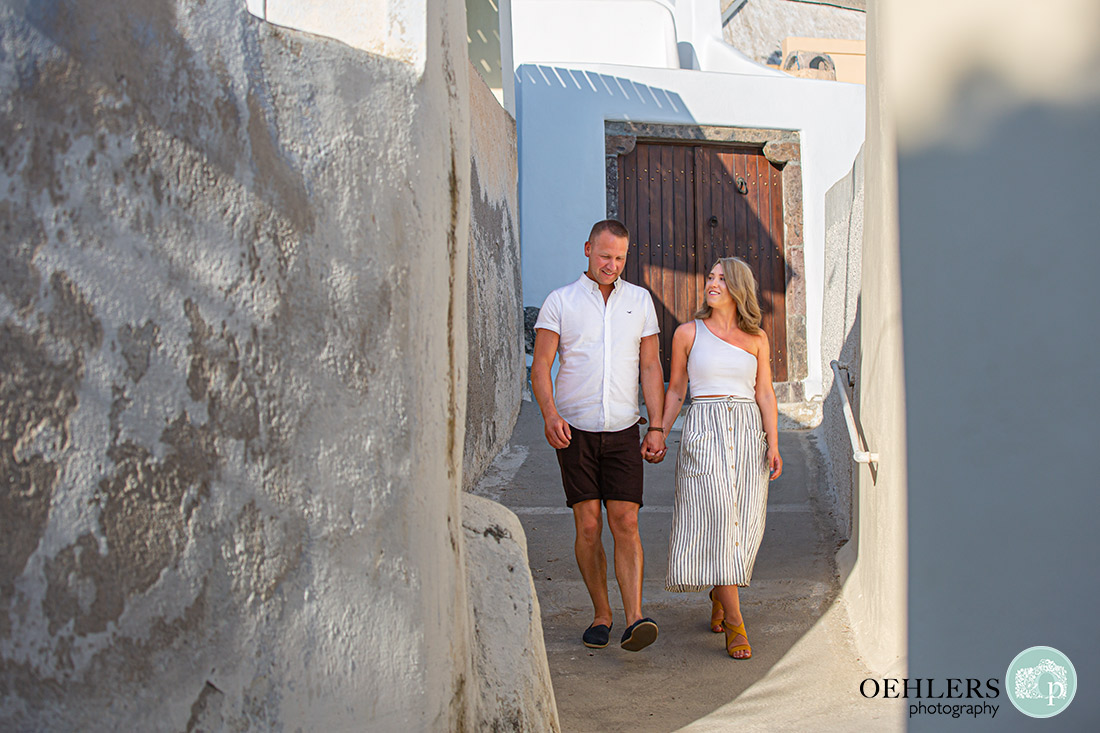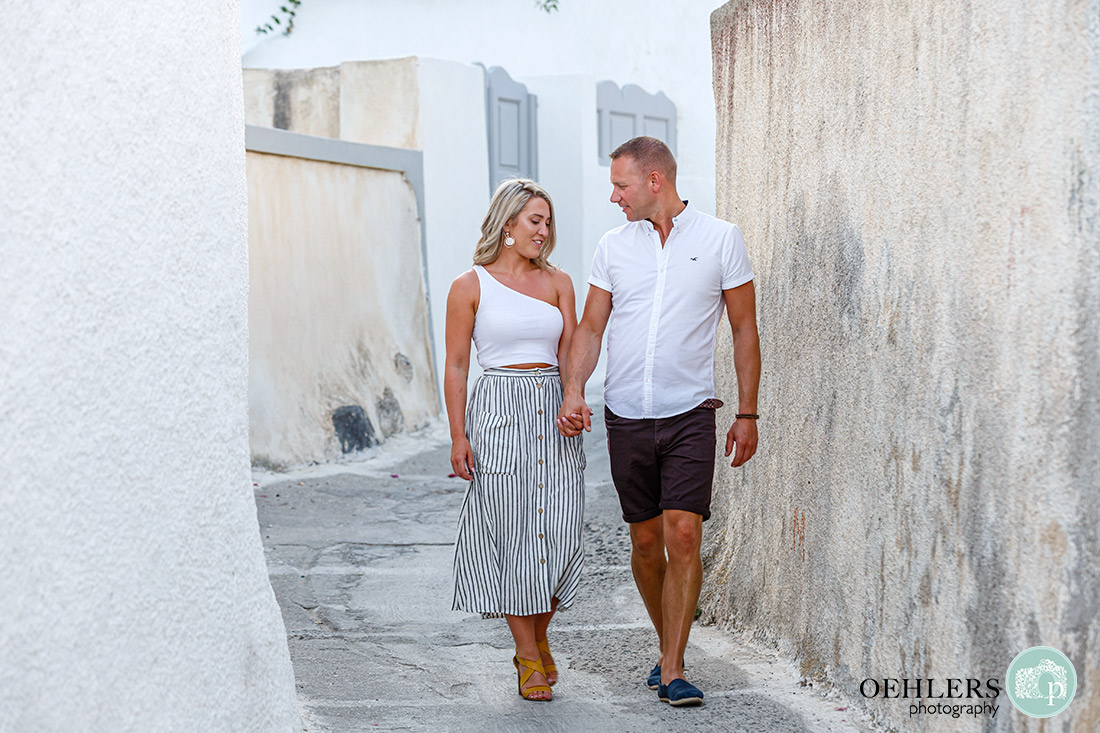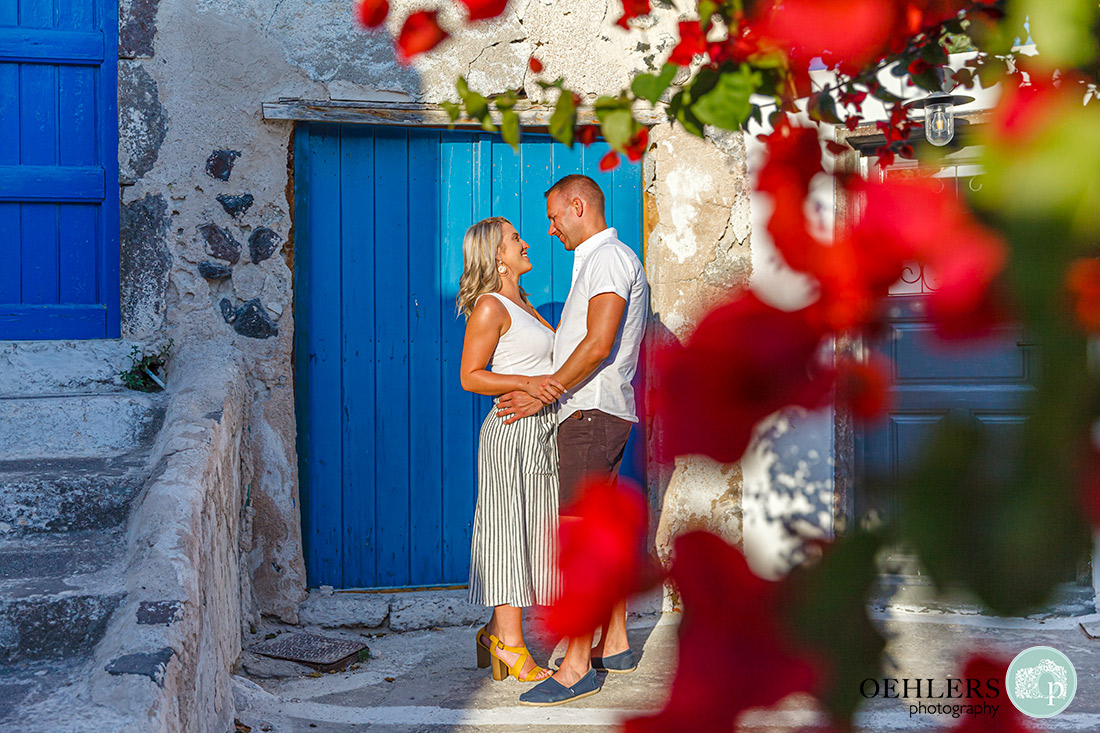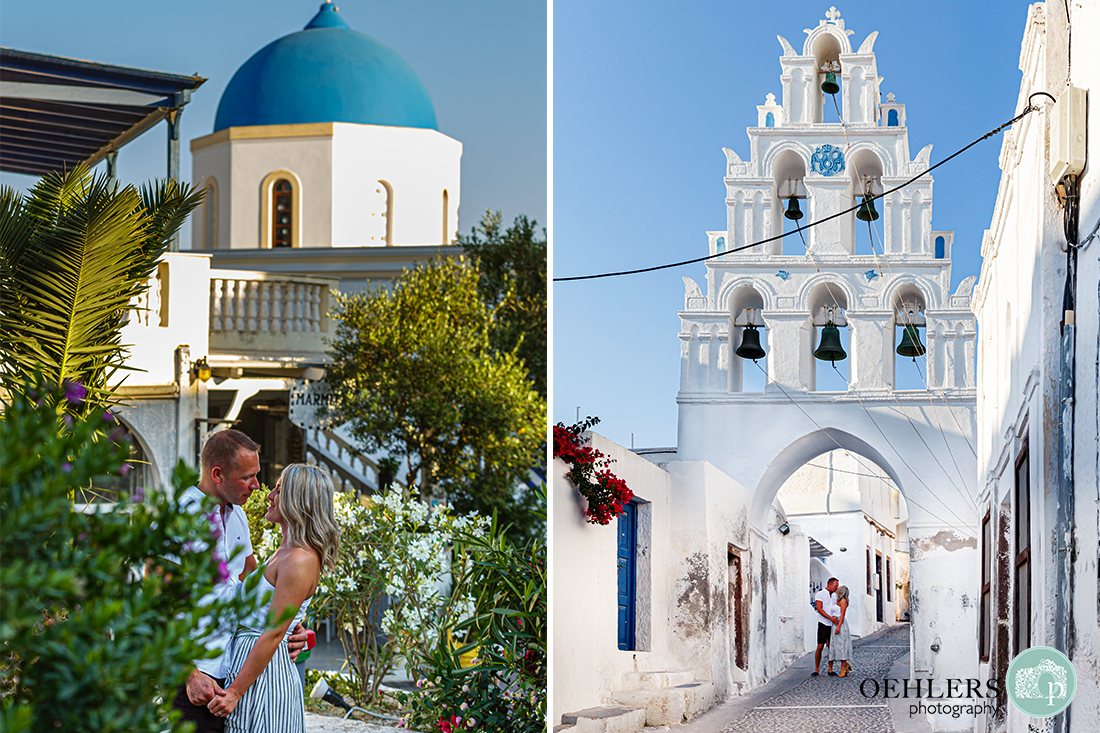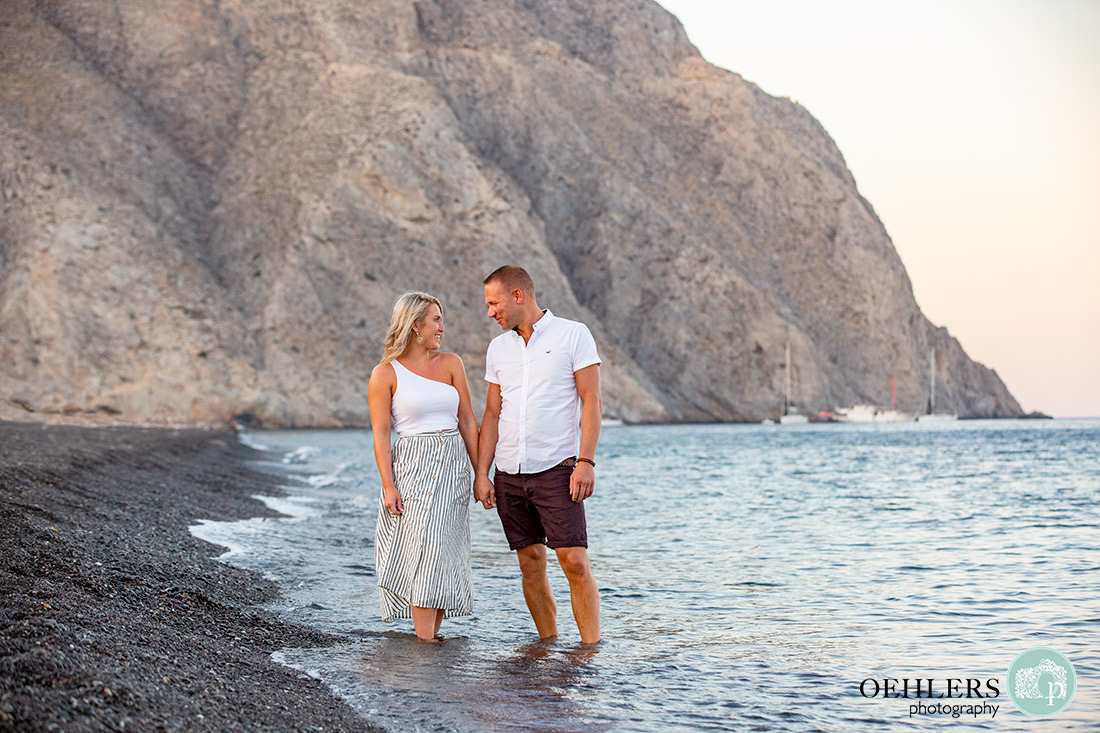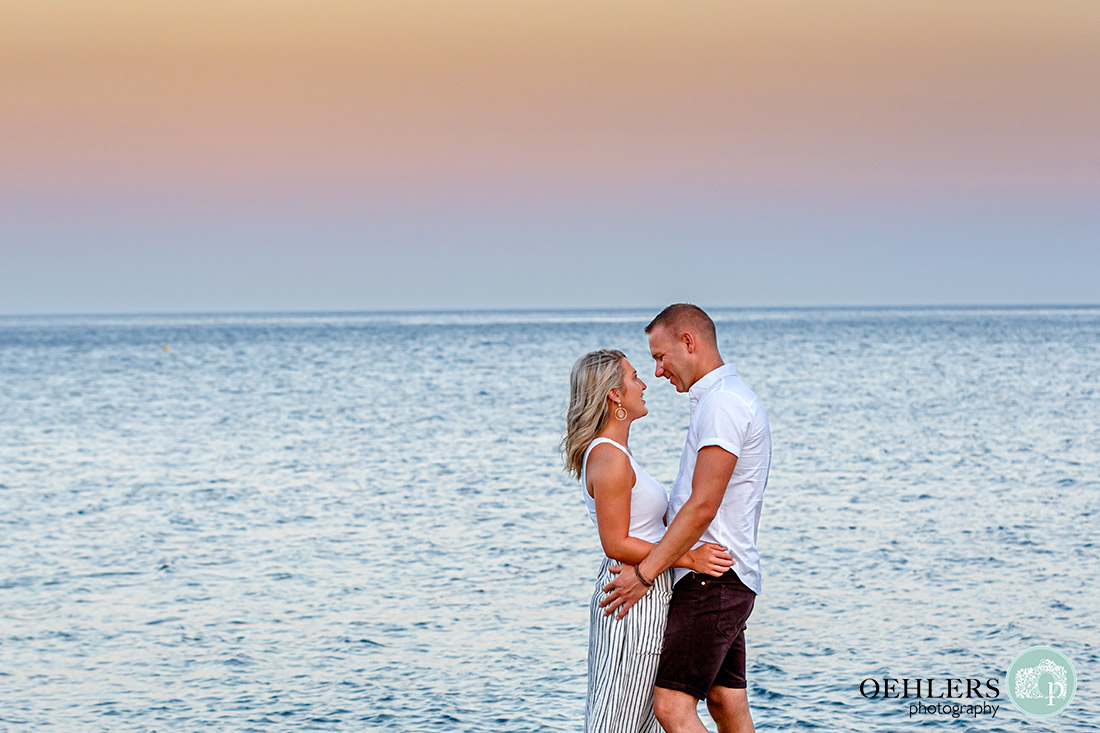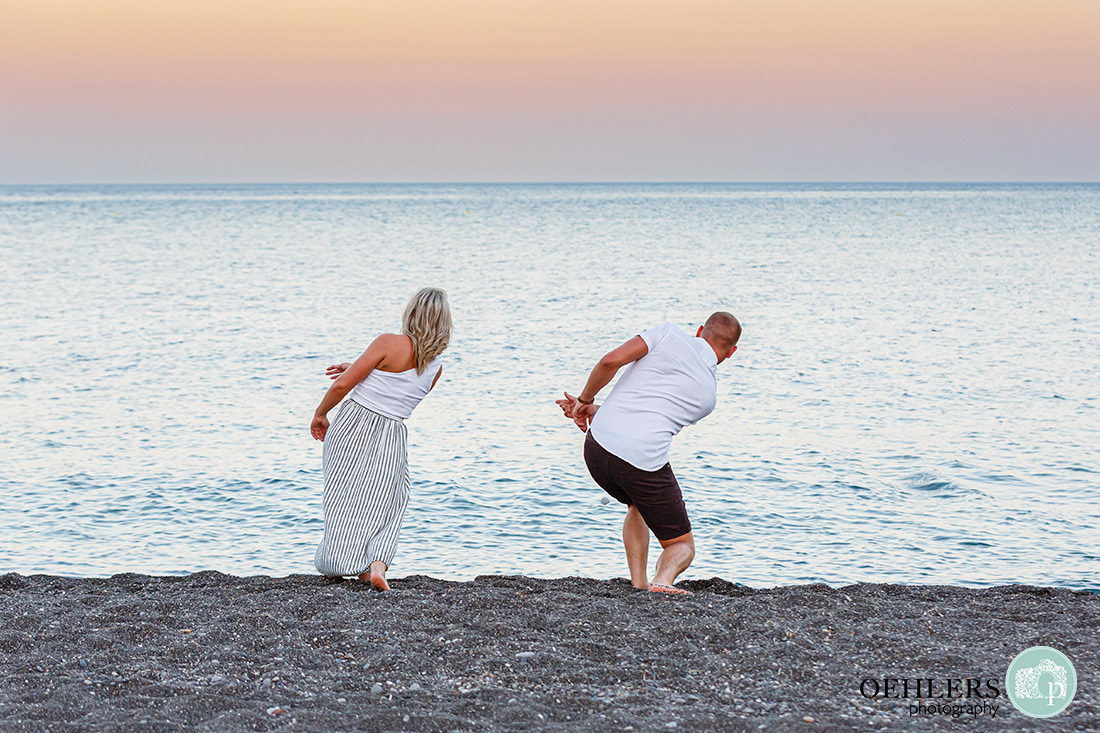 The Wedding Preparations Photographs.
The day of Katie and Adam's wedding was a scorcher. What is good about Santorini's weather is there always seems to be a welcoming sea breeze that dampens down the heat. Katie and her sisters, who were also her bridesmaids, decided to get ready at the beautiful Meltemi Suites in Perissa where Katie and Adam were staying. Adam got ready at another hotel where his parents were staying. So that worked out well. Everyone was so calm and looking forward to the ceremony and celebrations.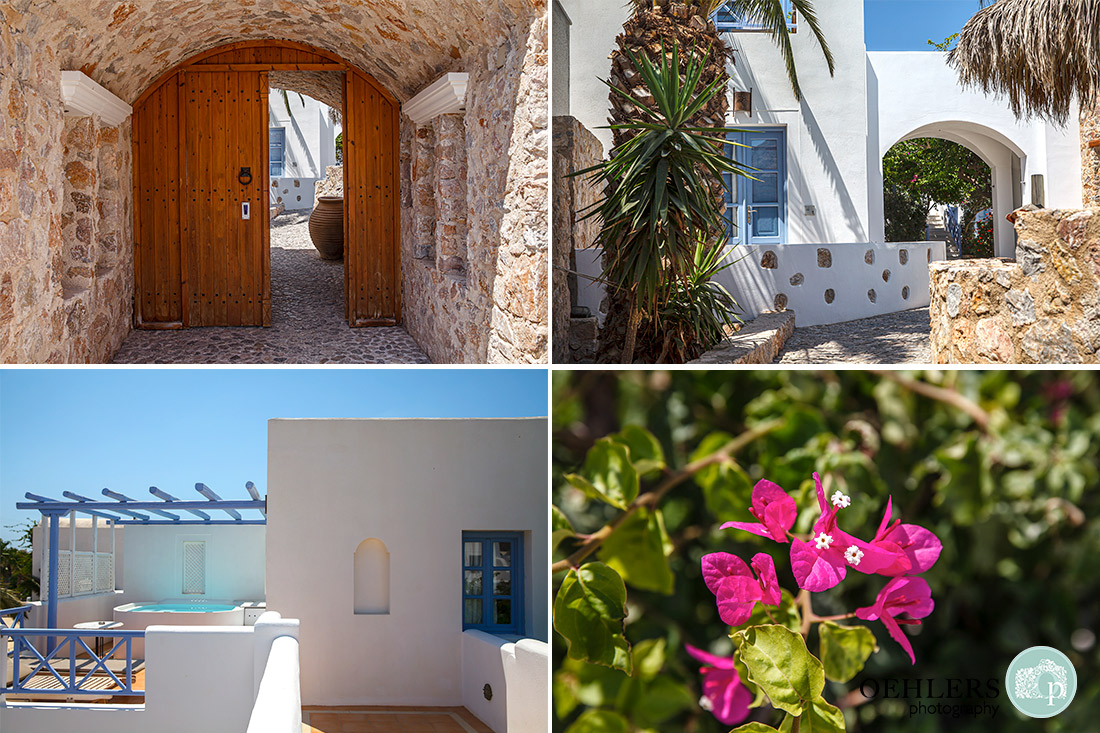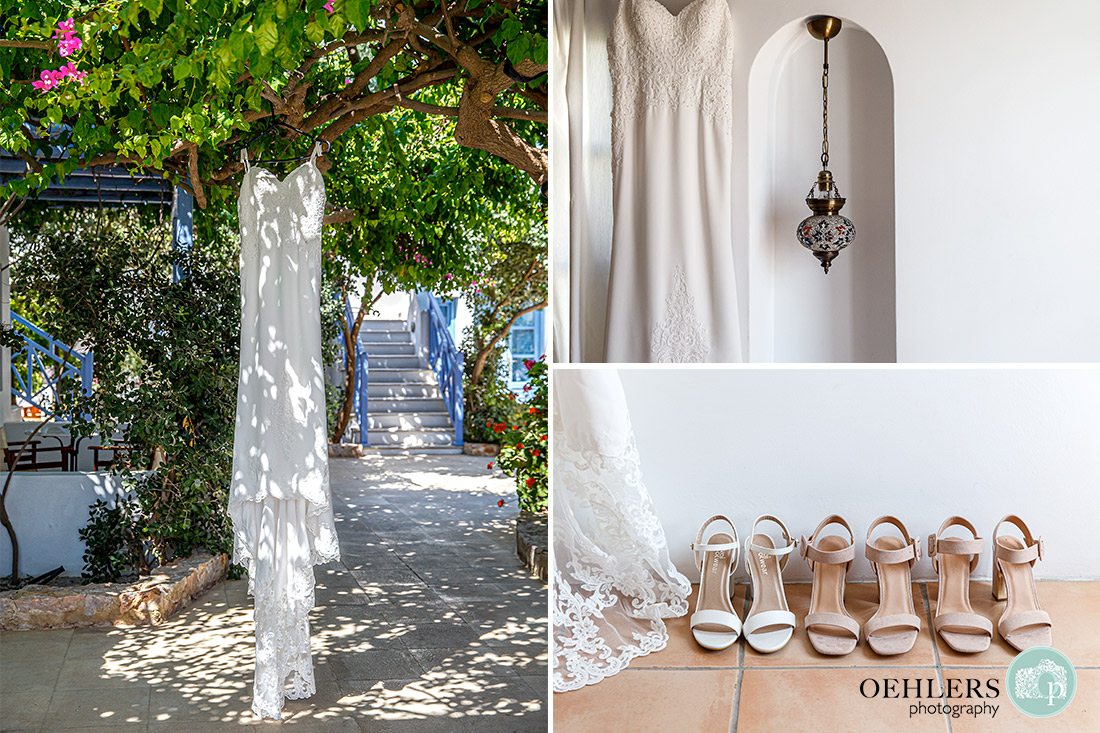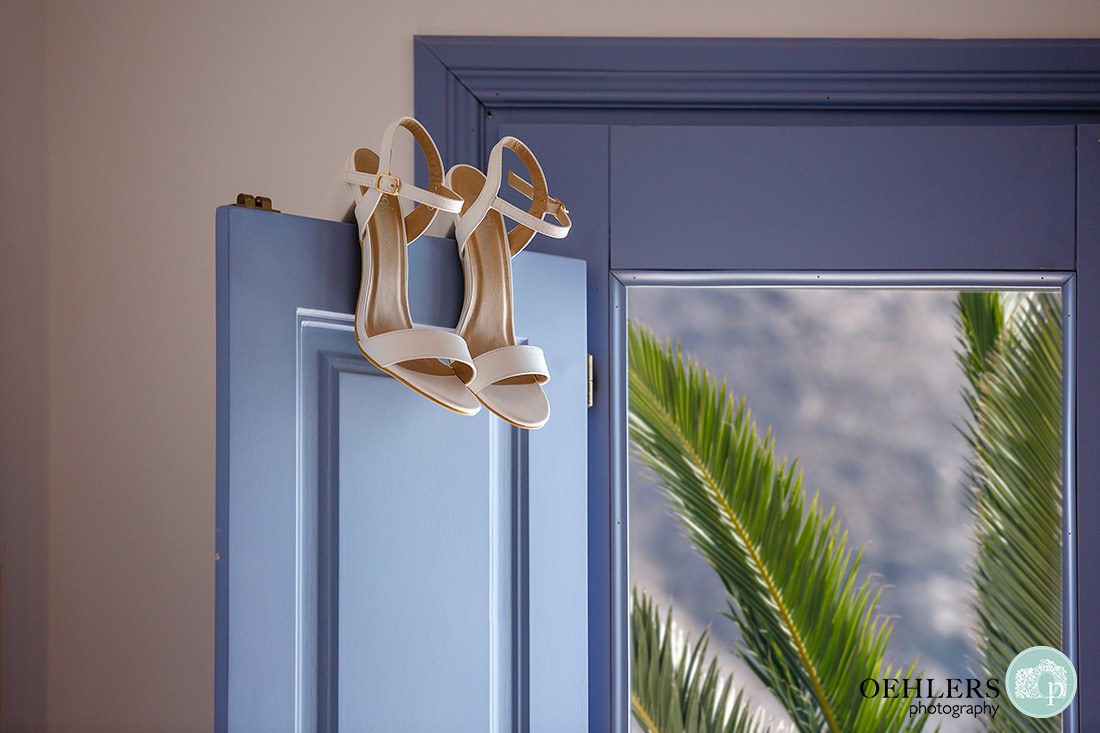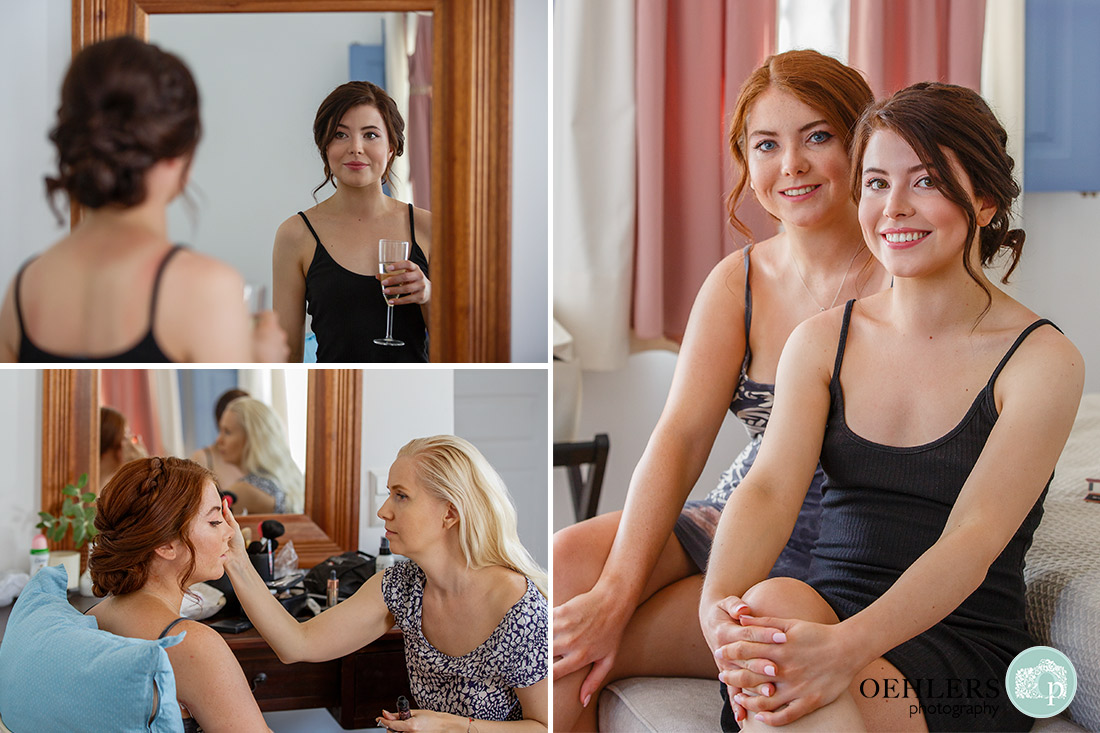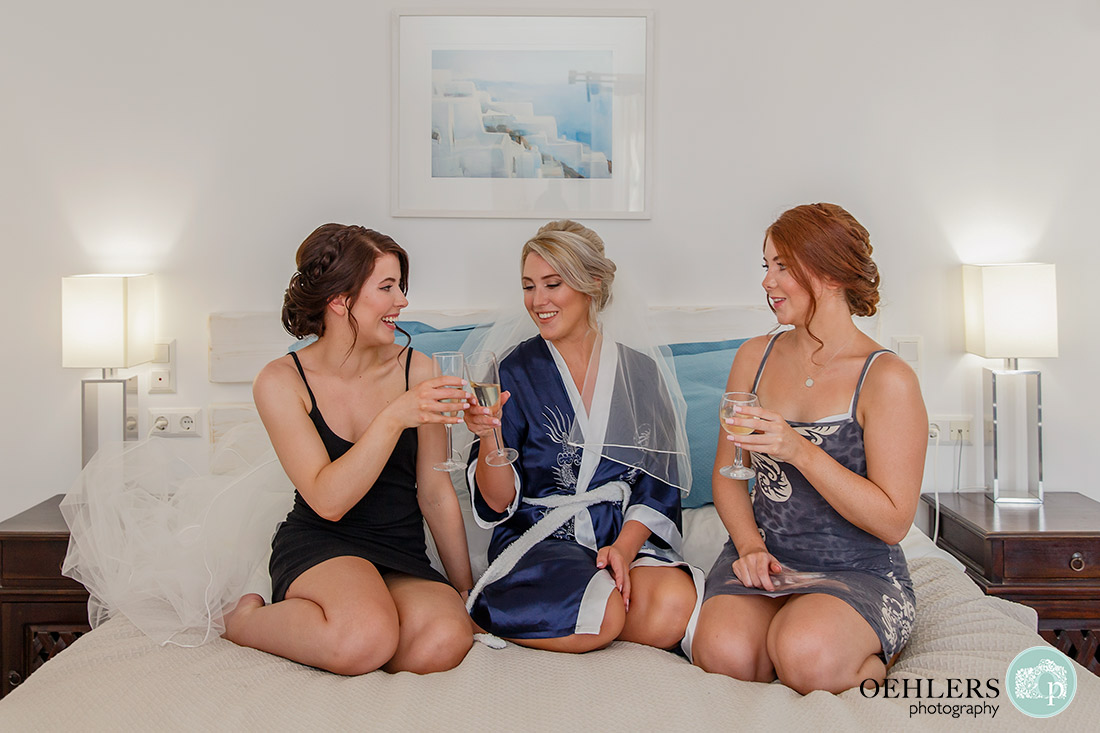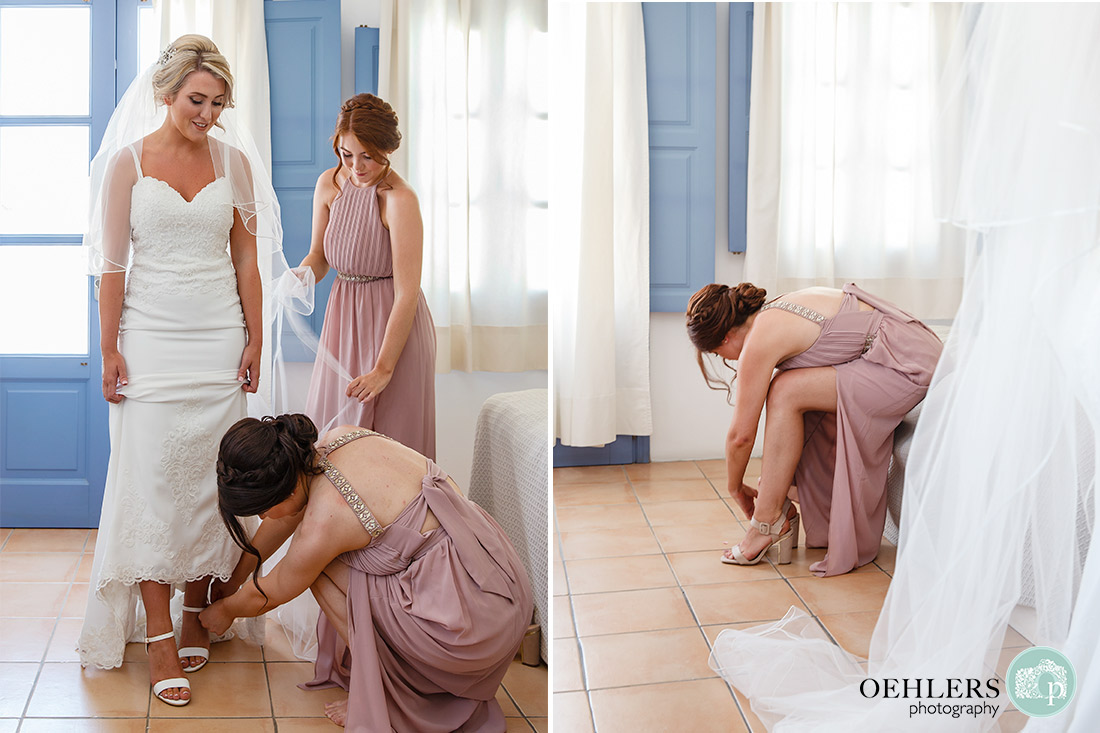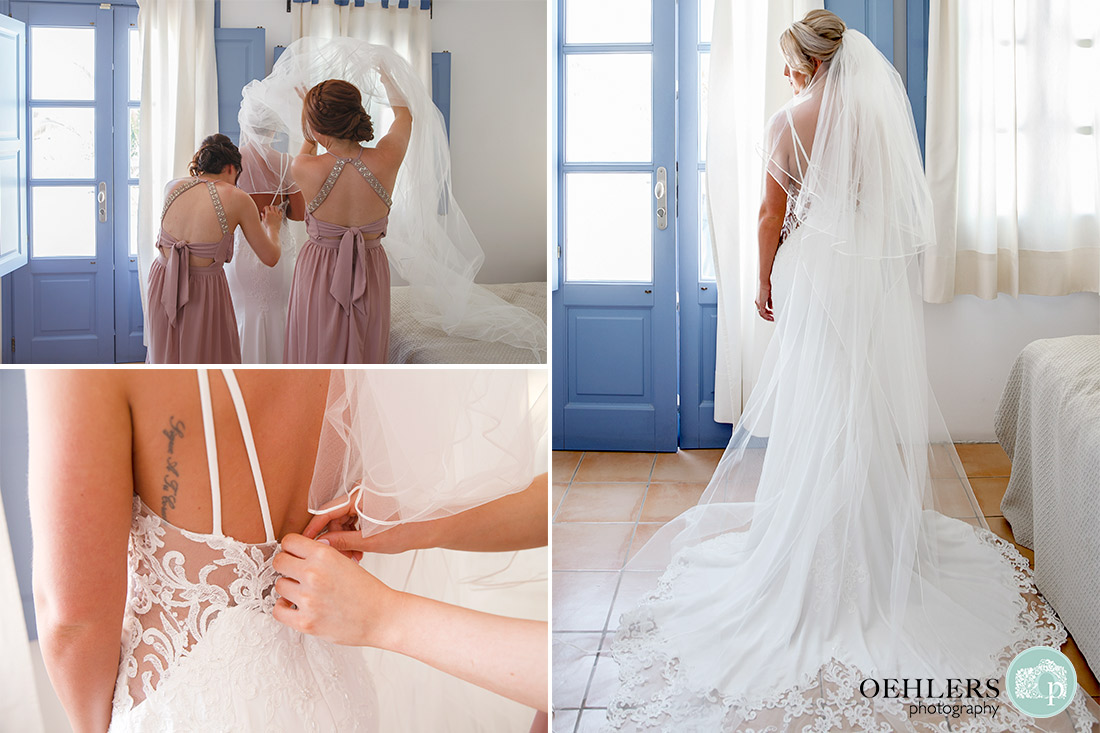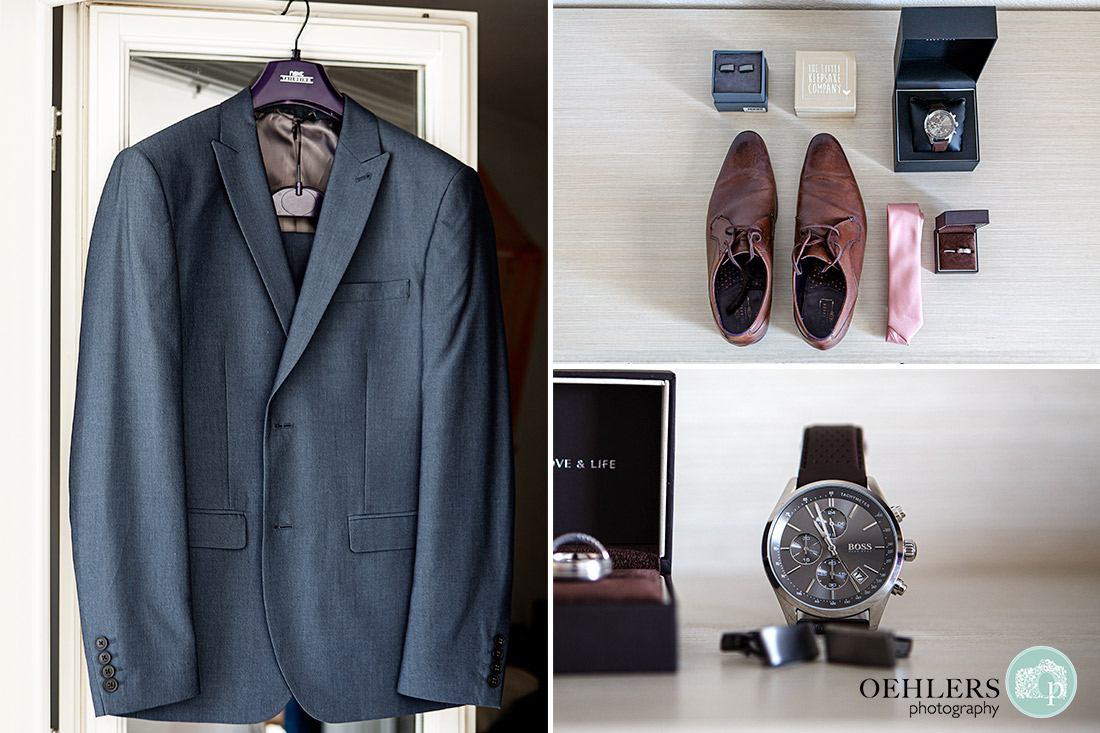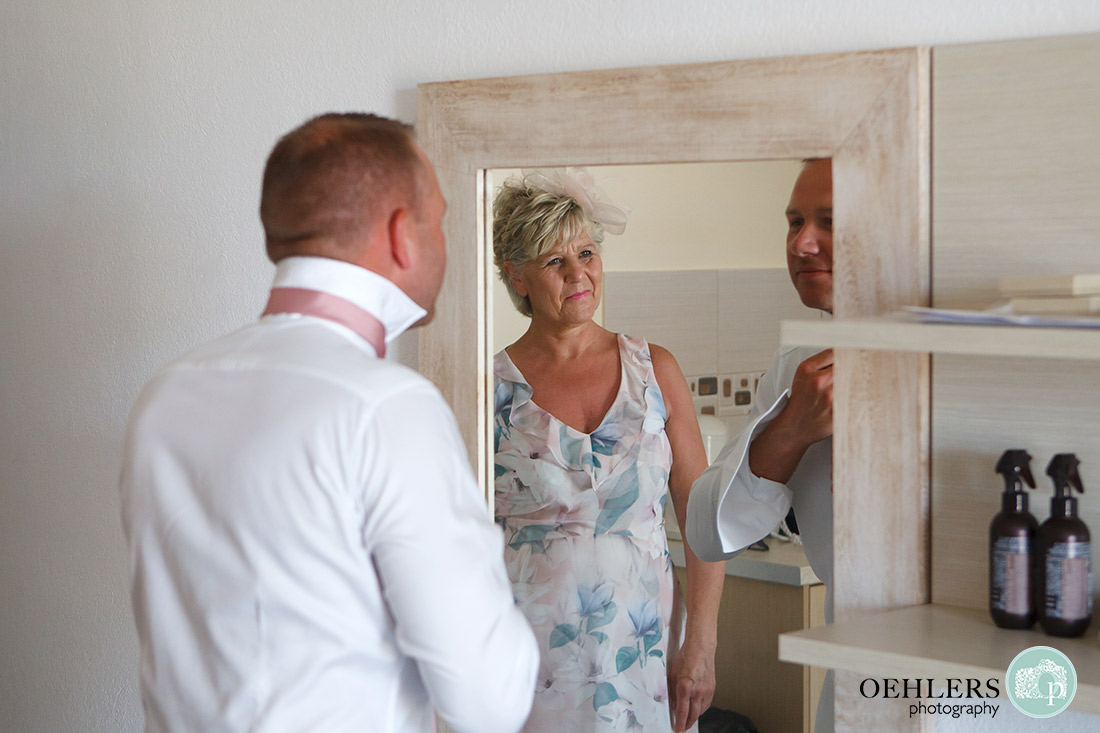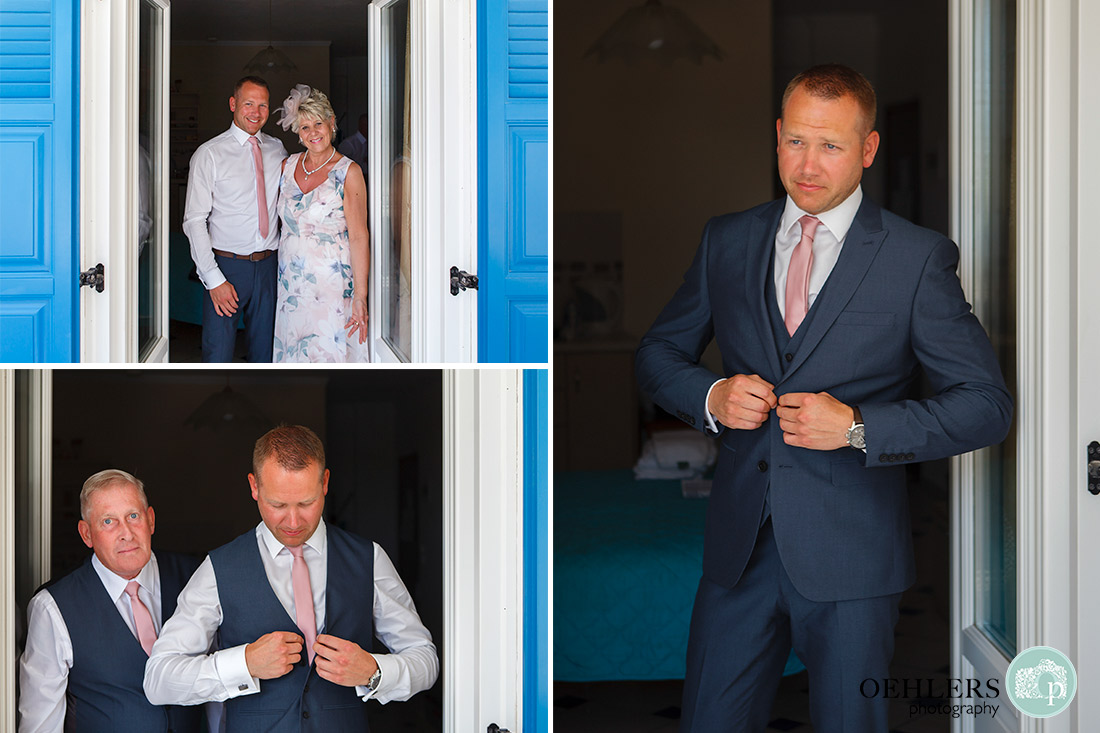 Destination Wedding Ceremony – Santos Winery.
What a fabulous location for a wedding. Santos Winery is a spectacular wedding venue with panoramic island views and breathtaking views of the caldera and the Aegean Sea. For Santorini Destination Wedding Photographers it is a dream location.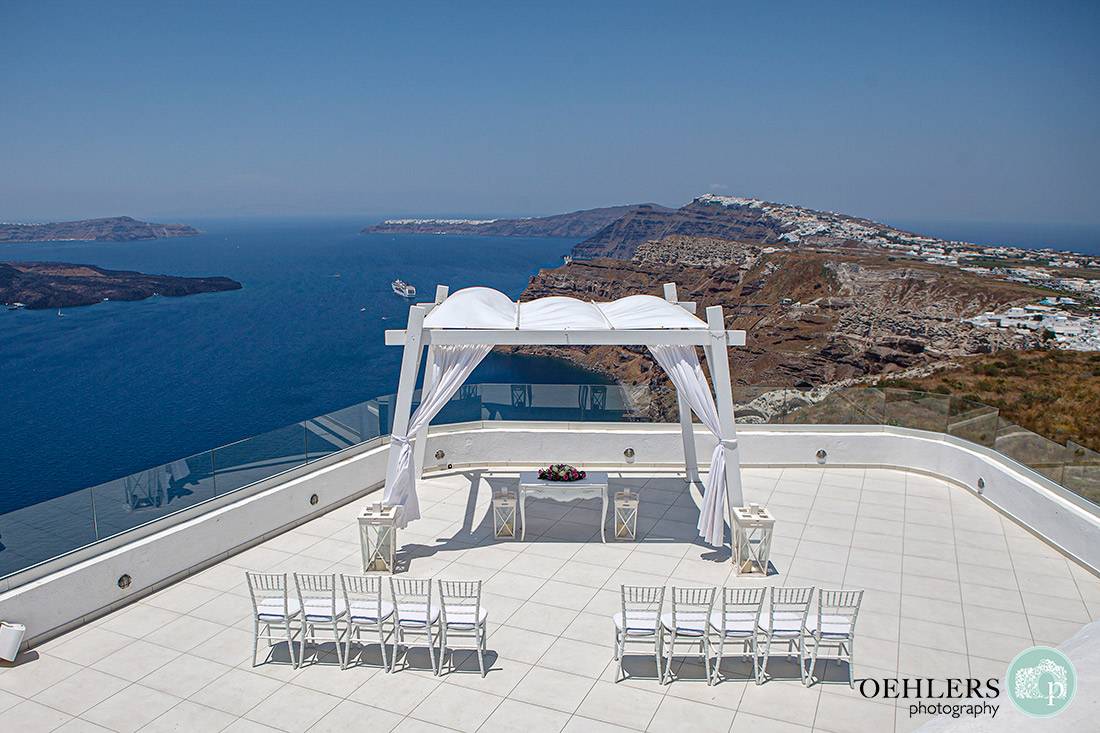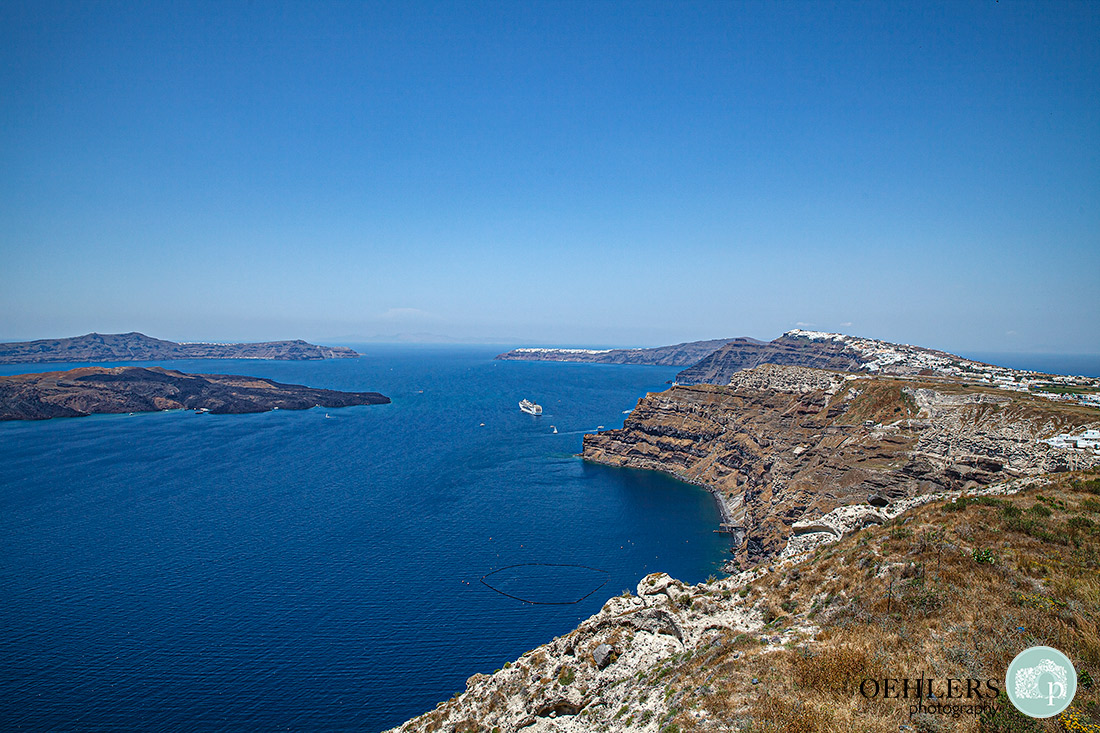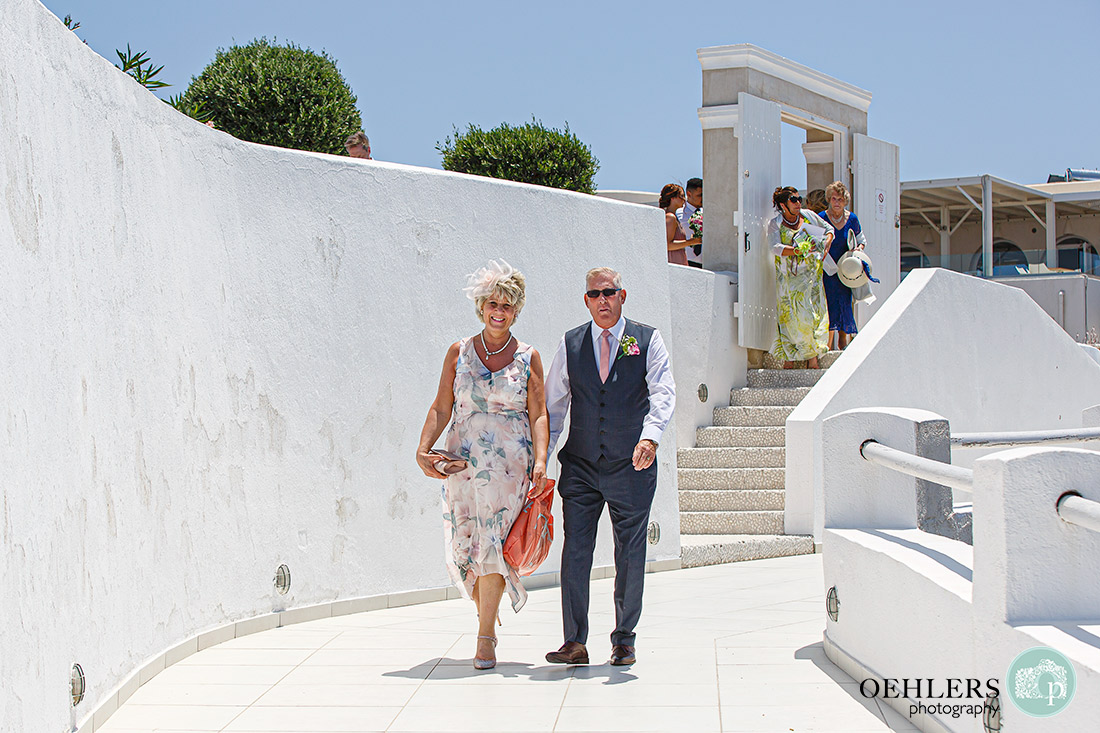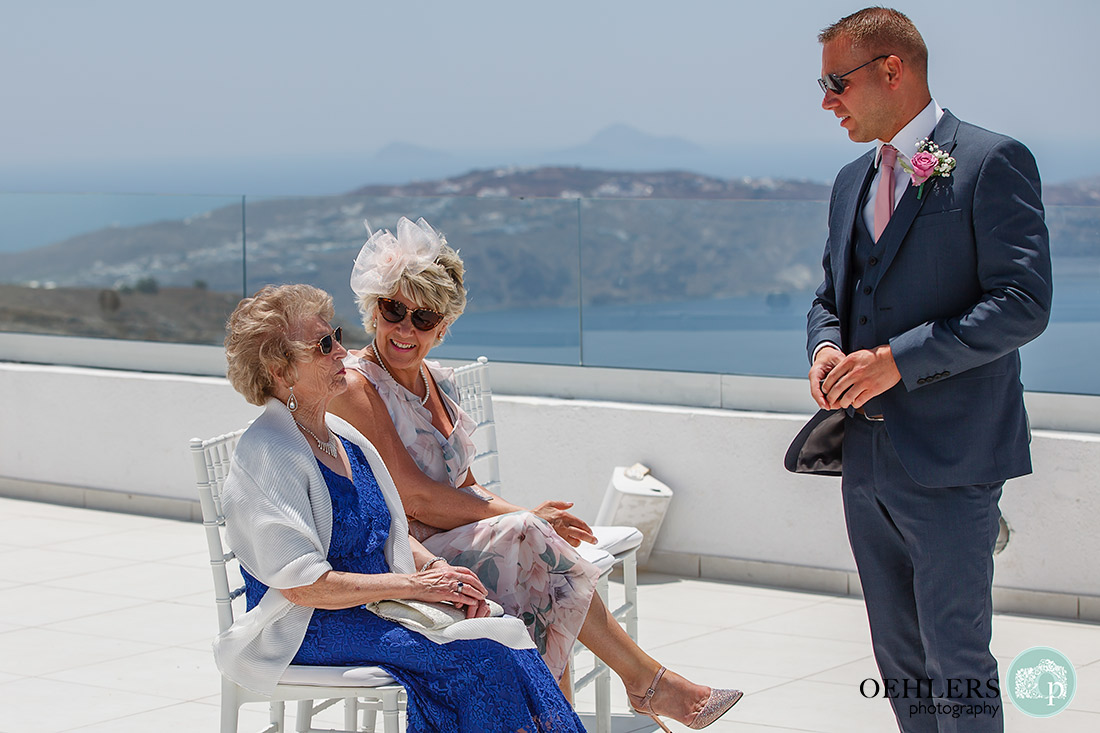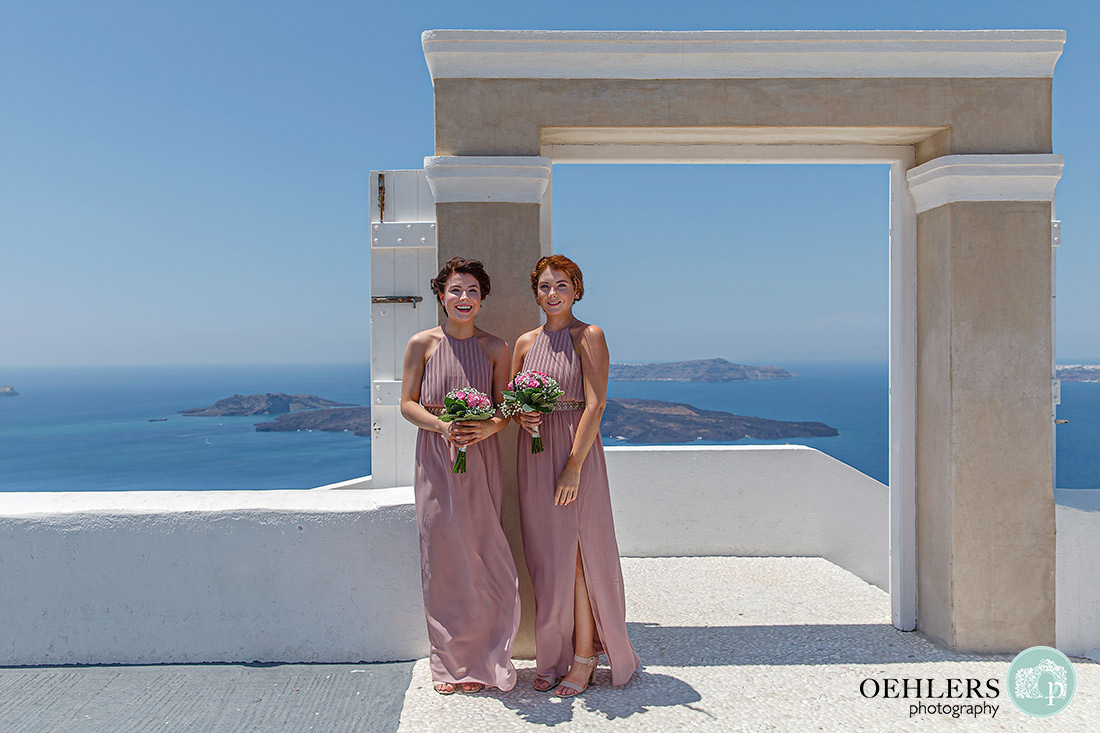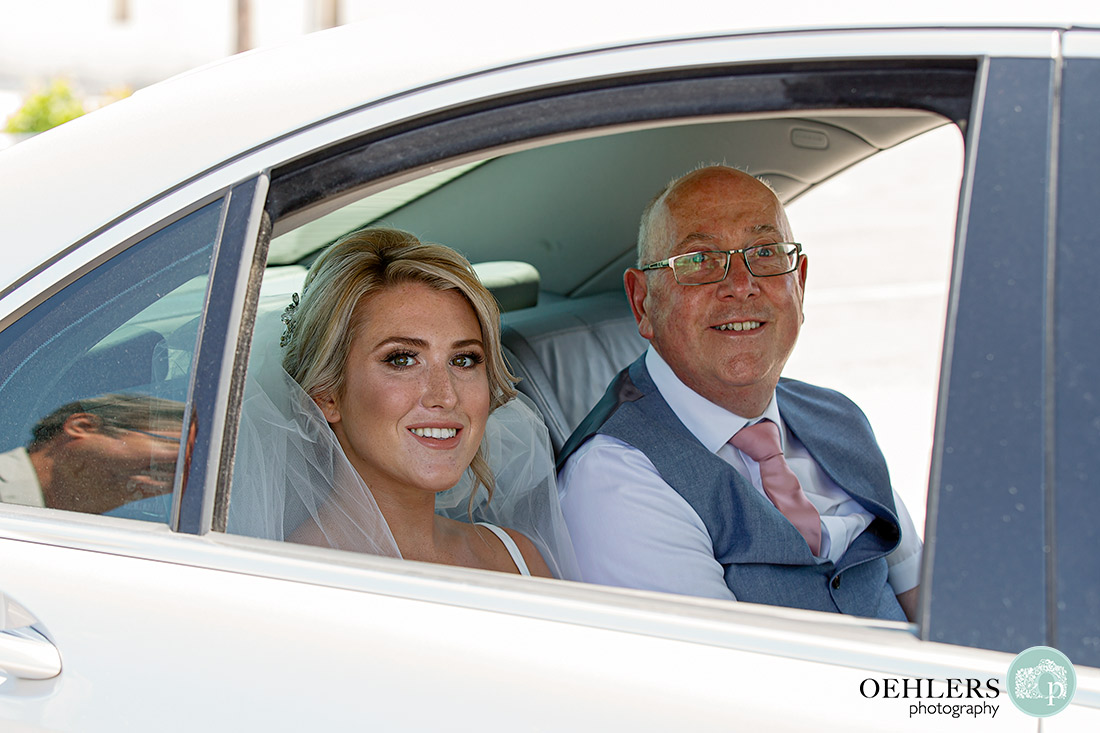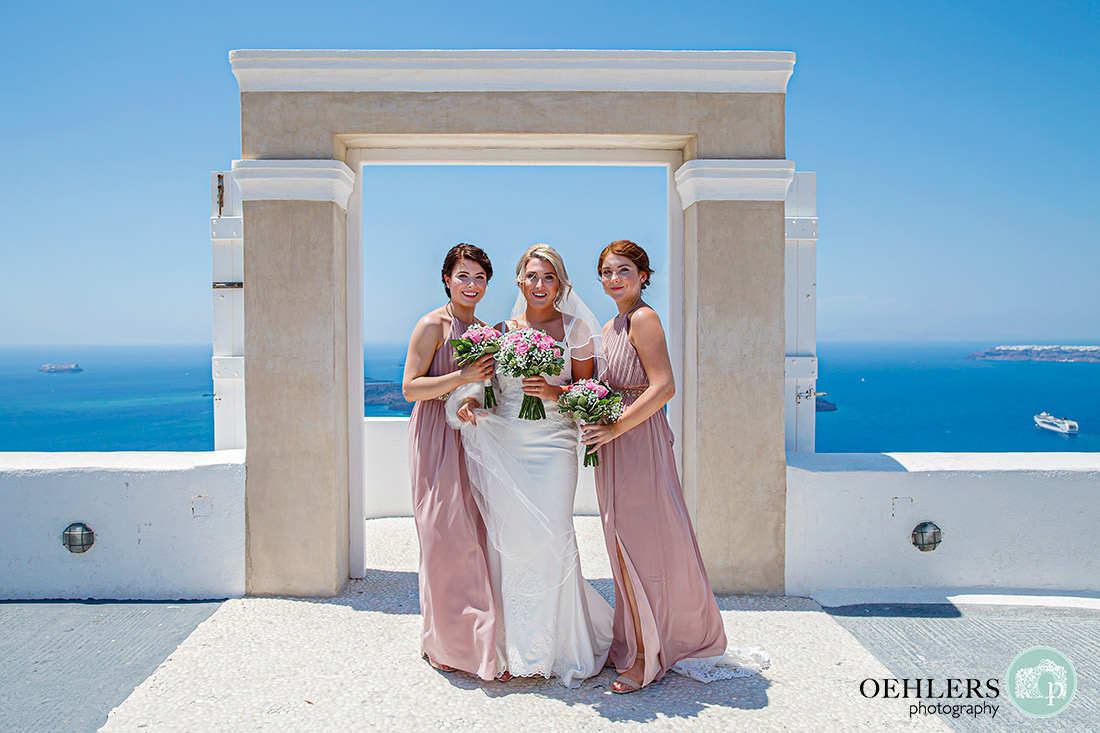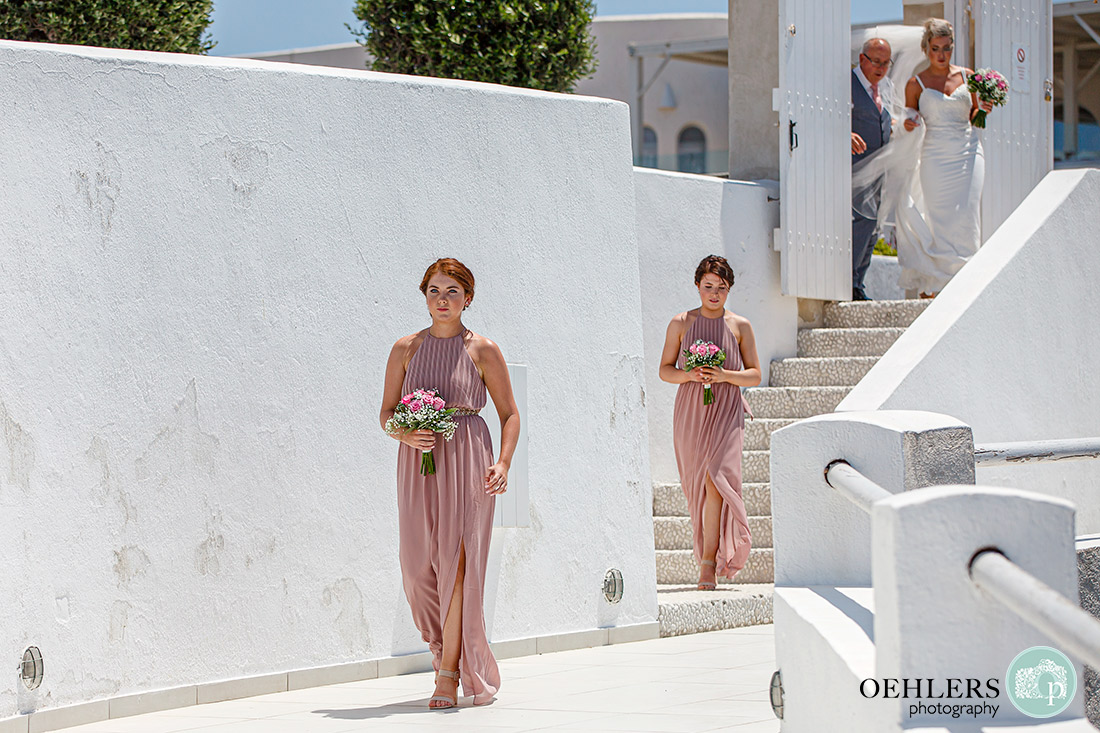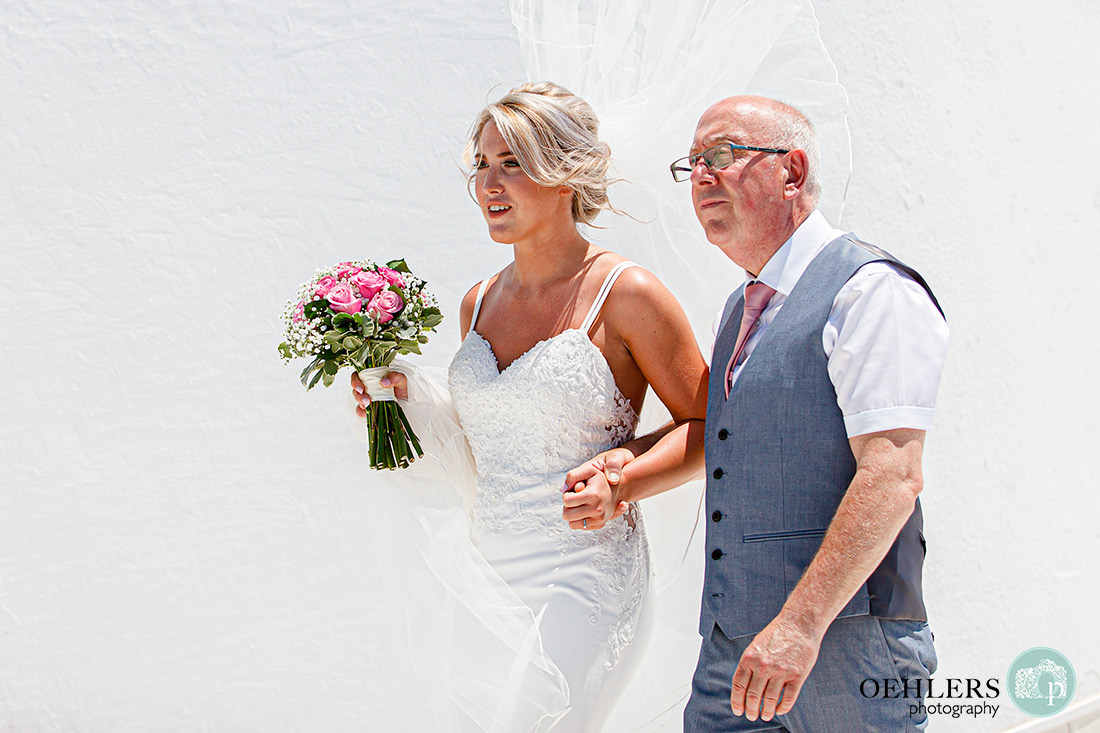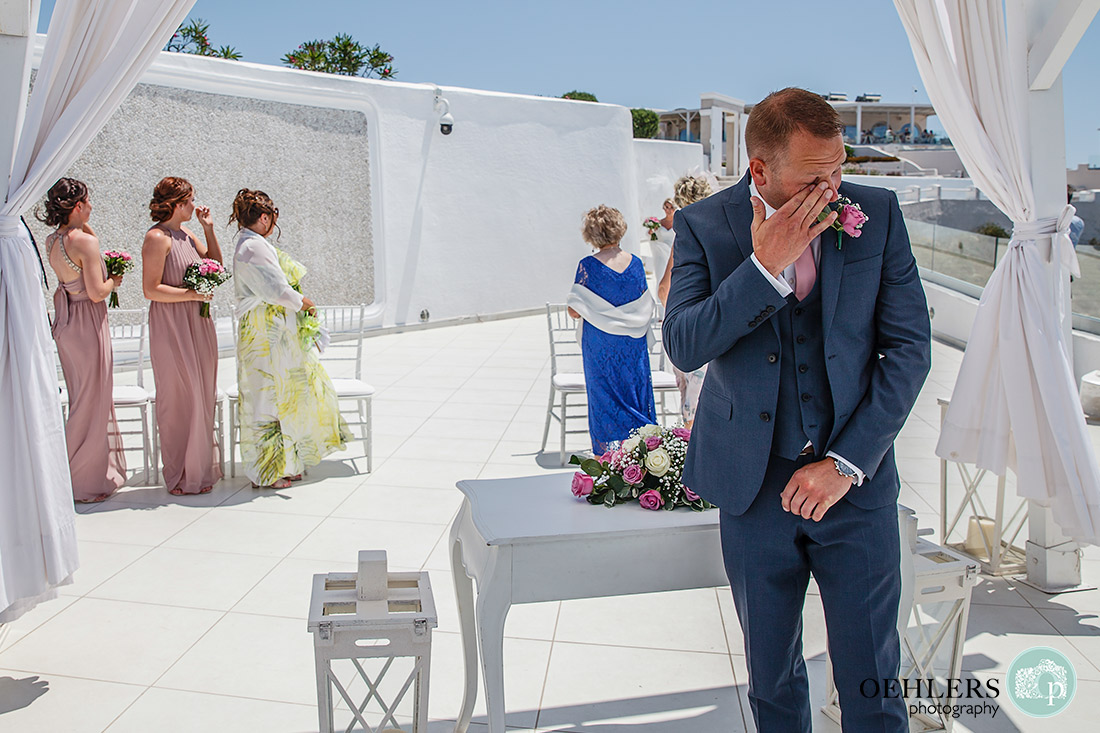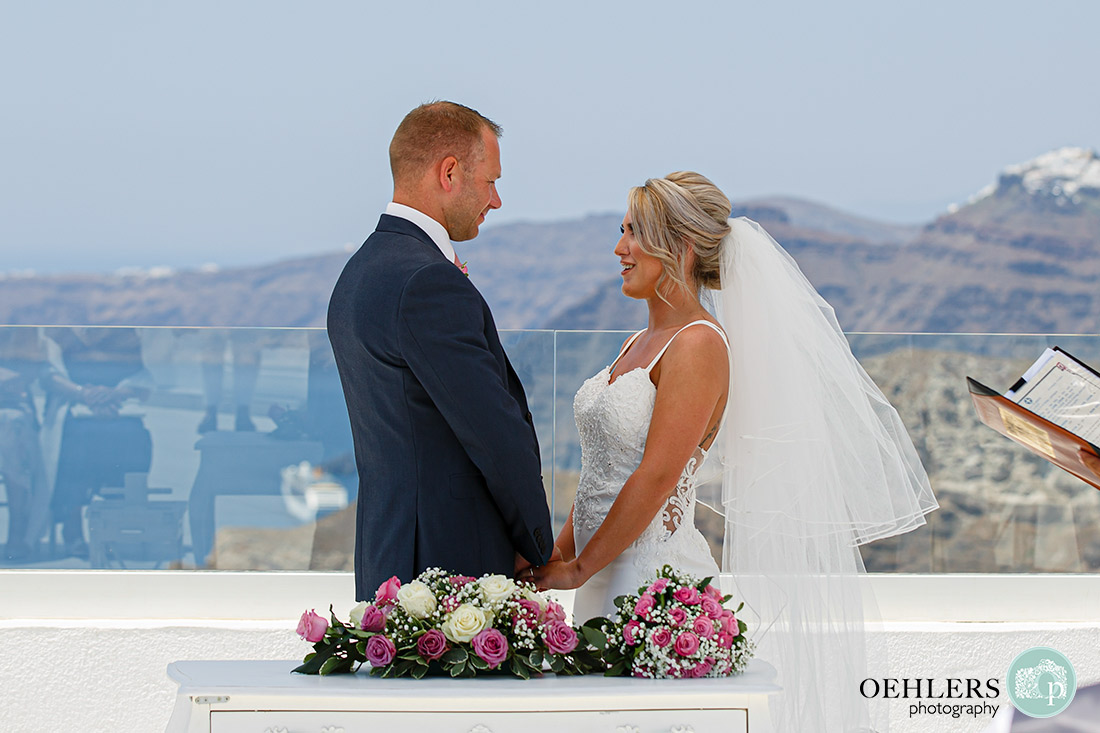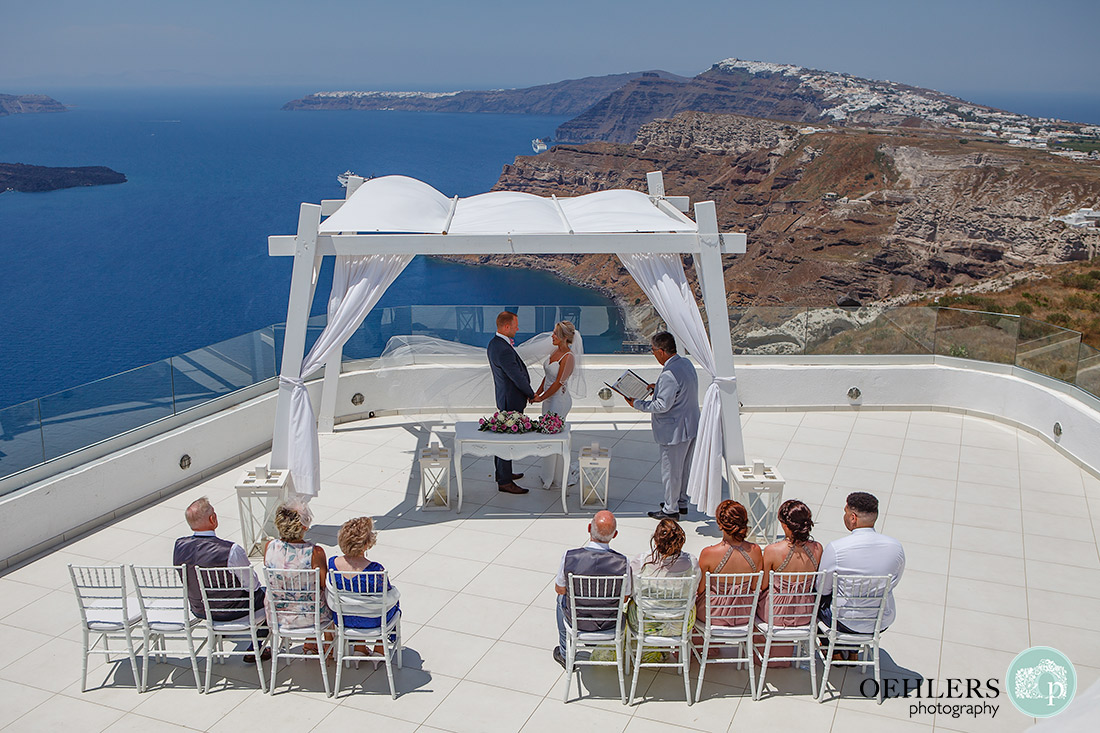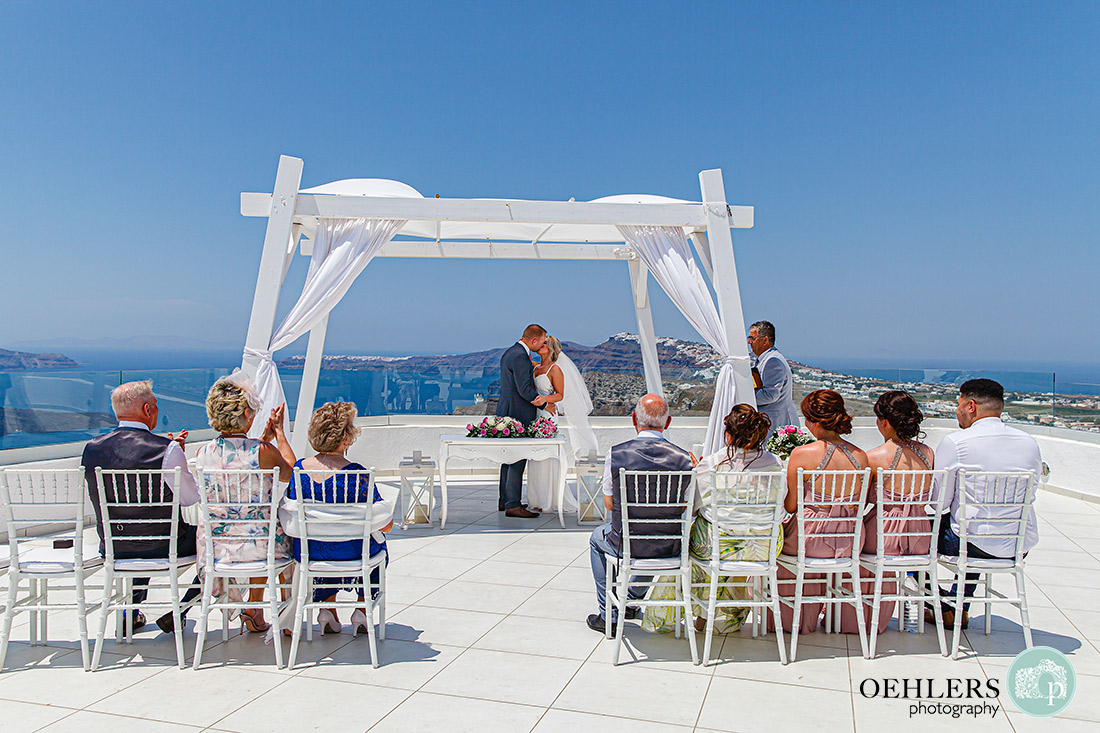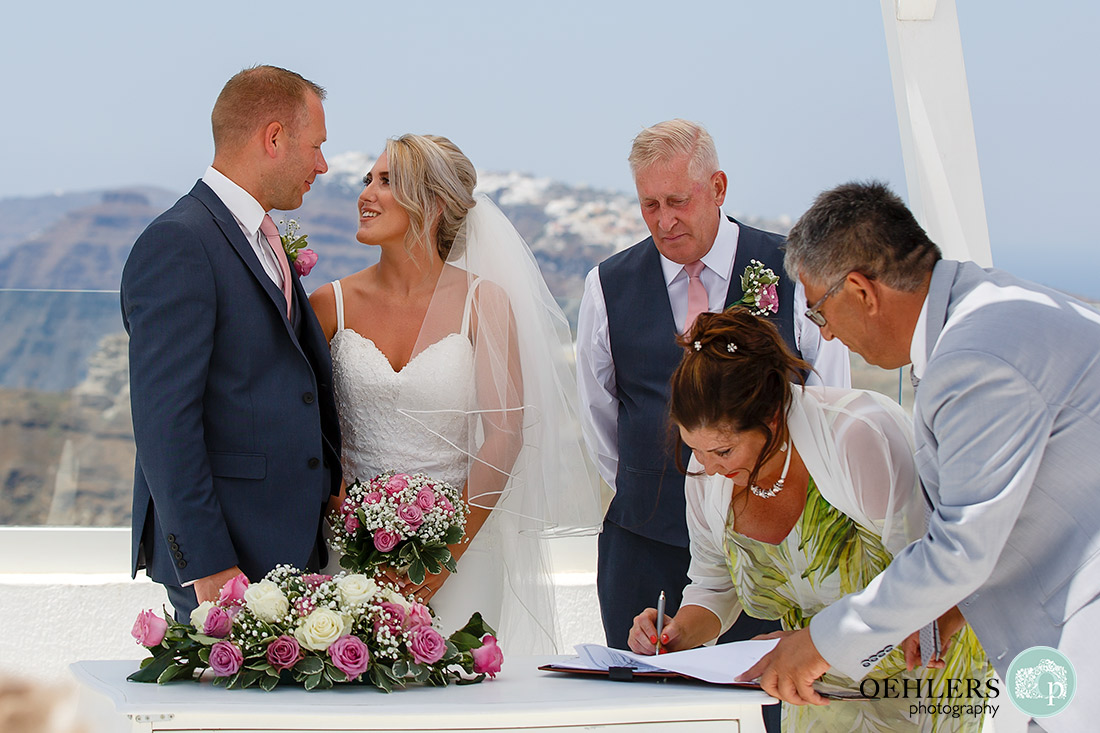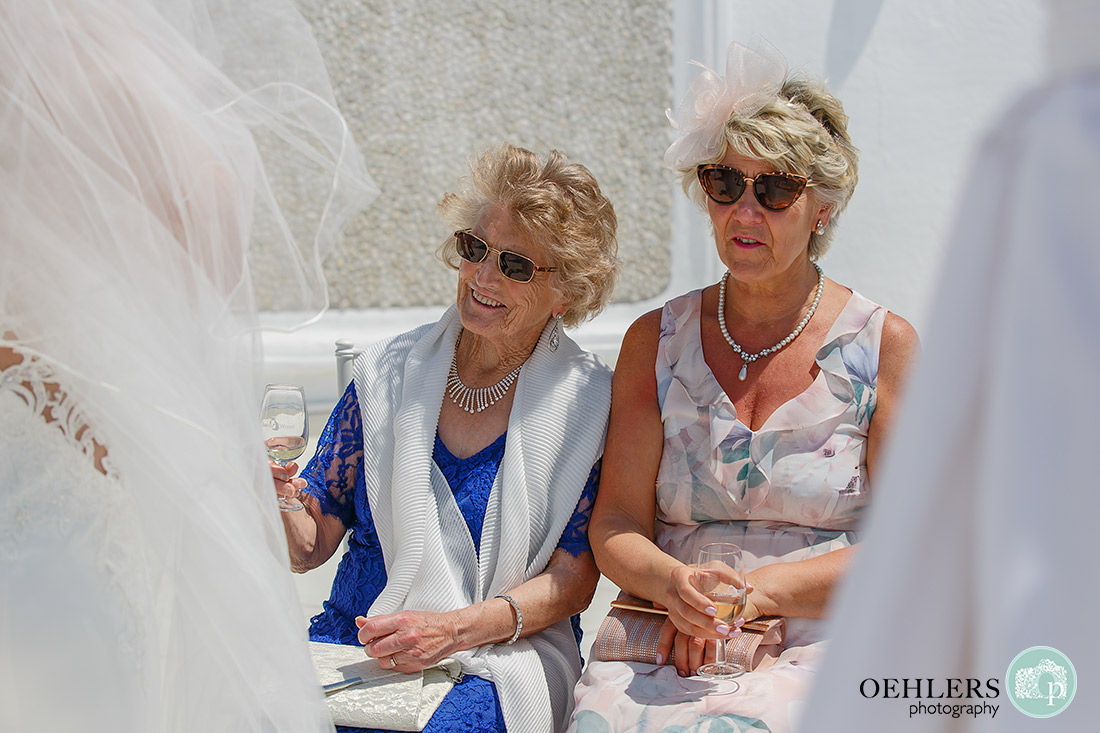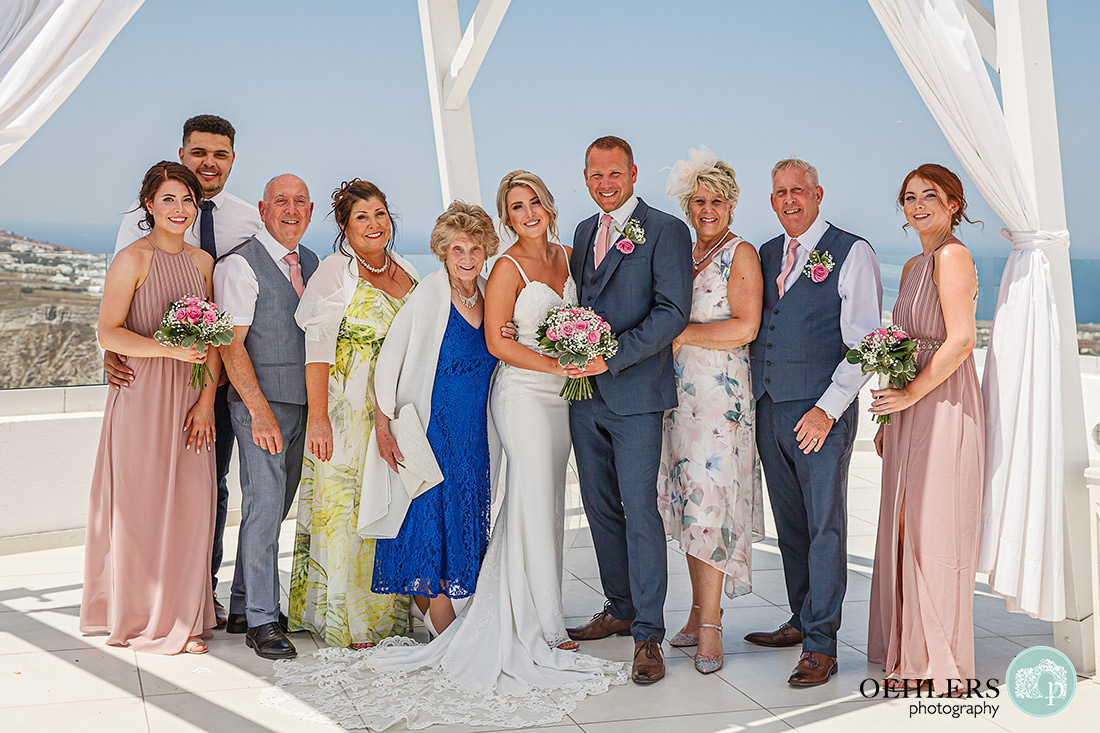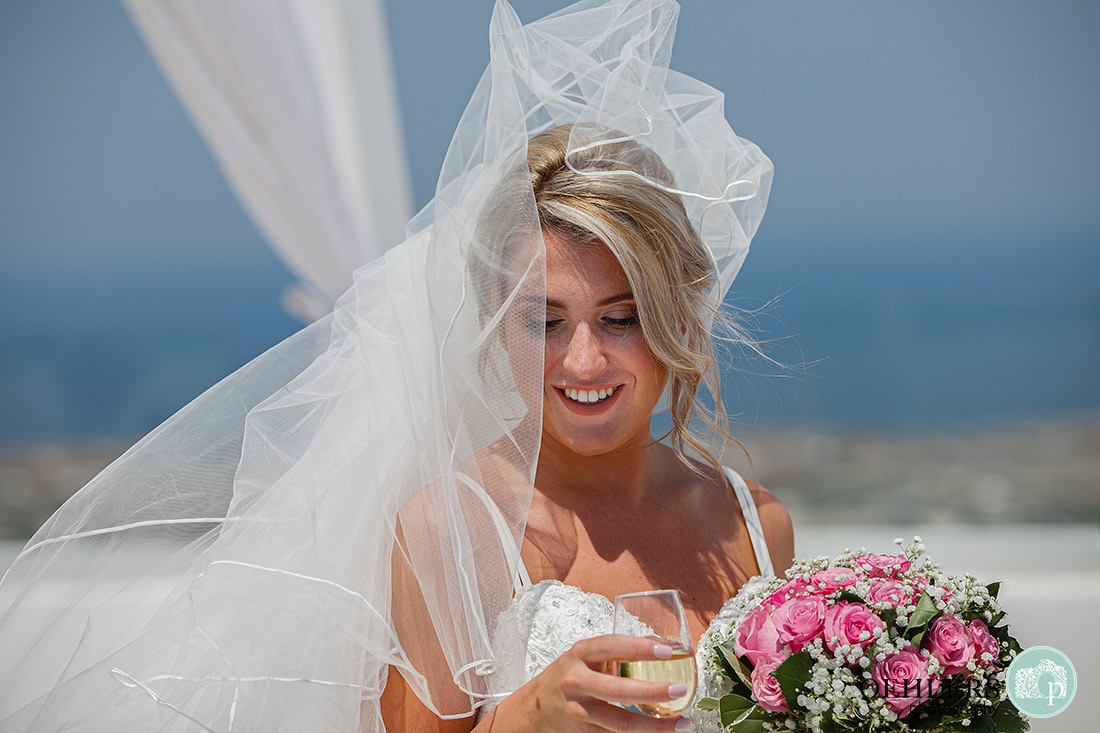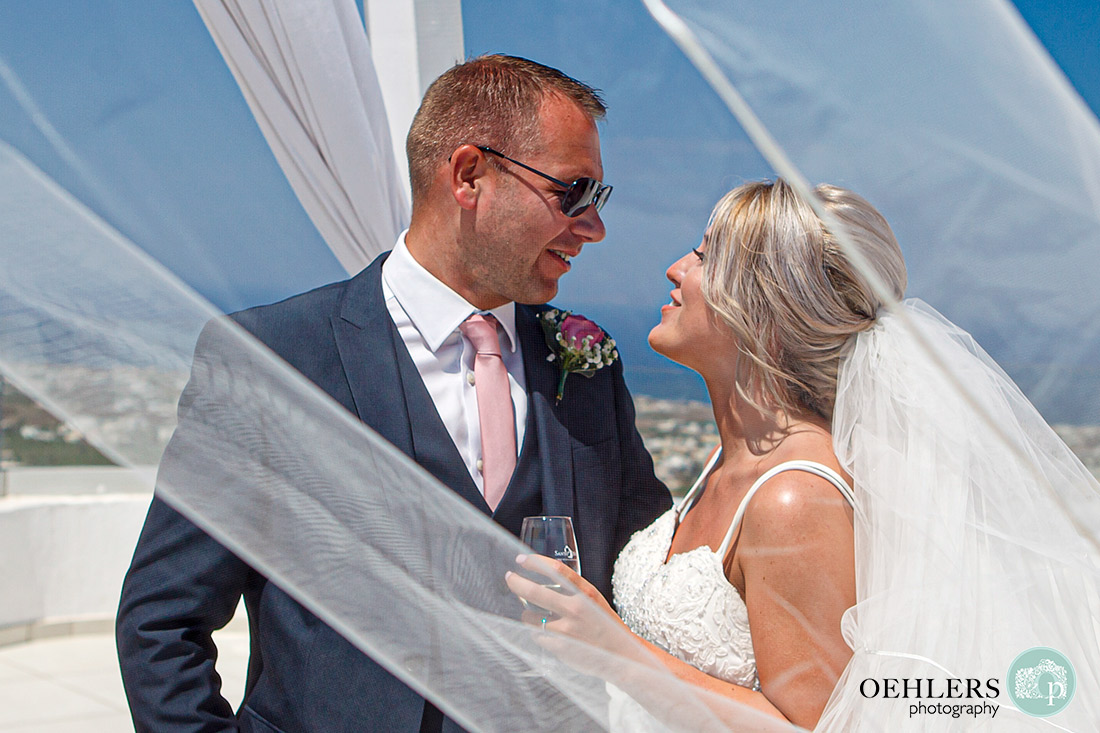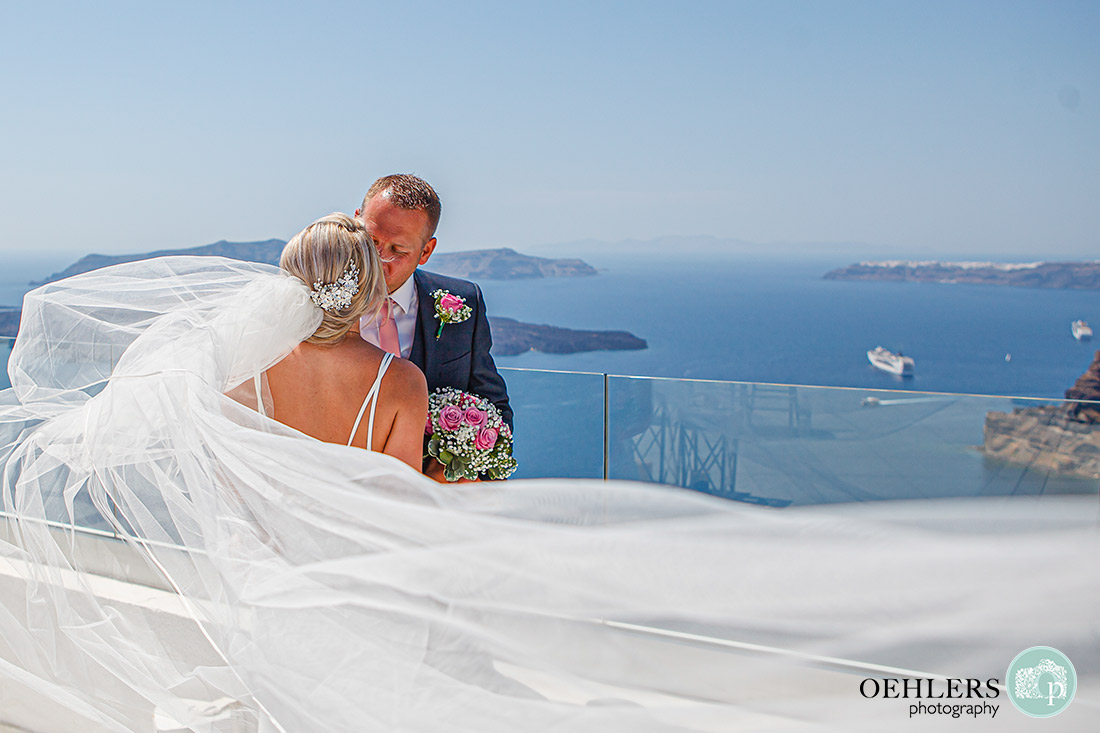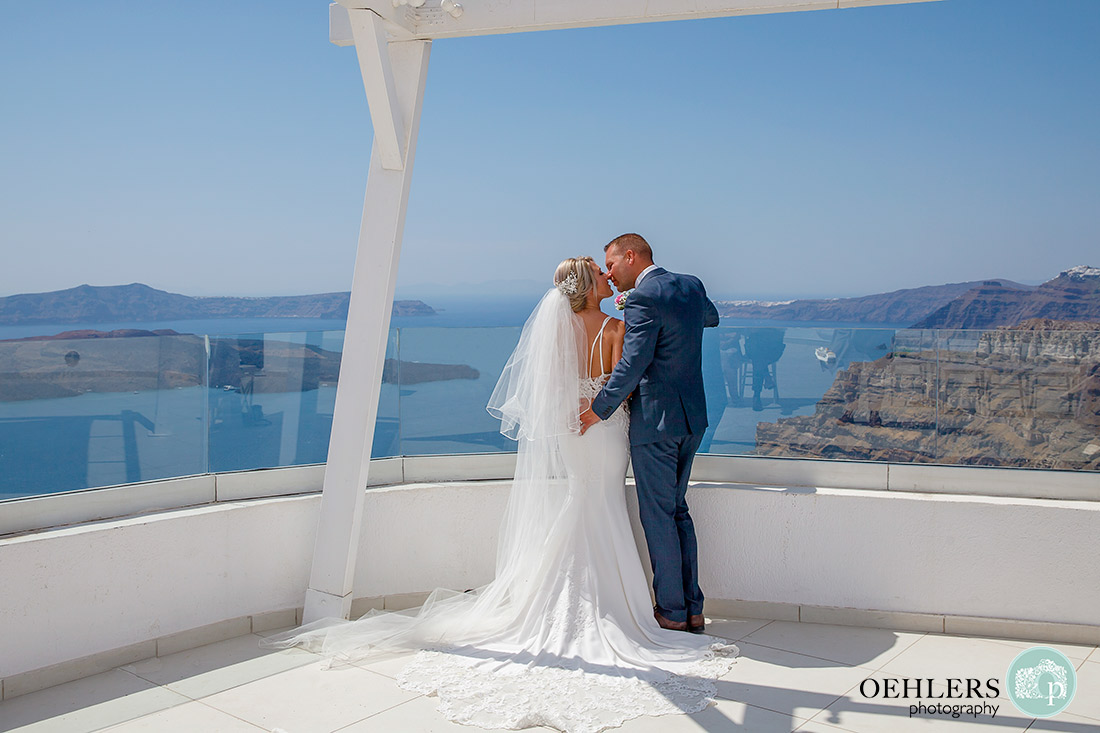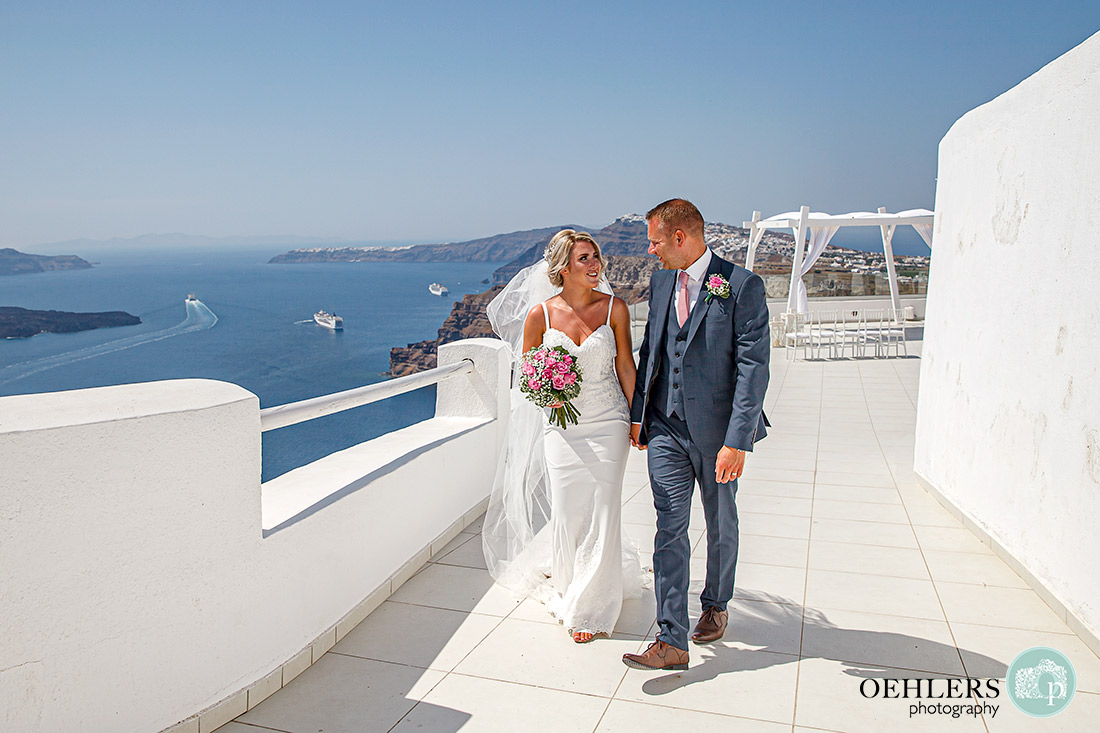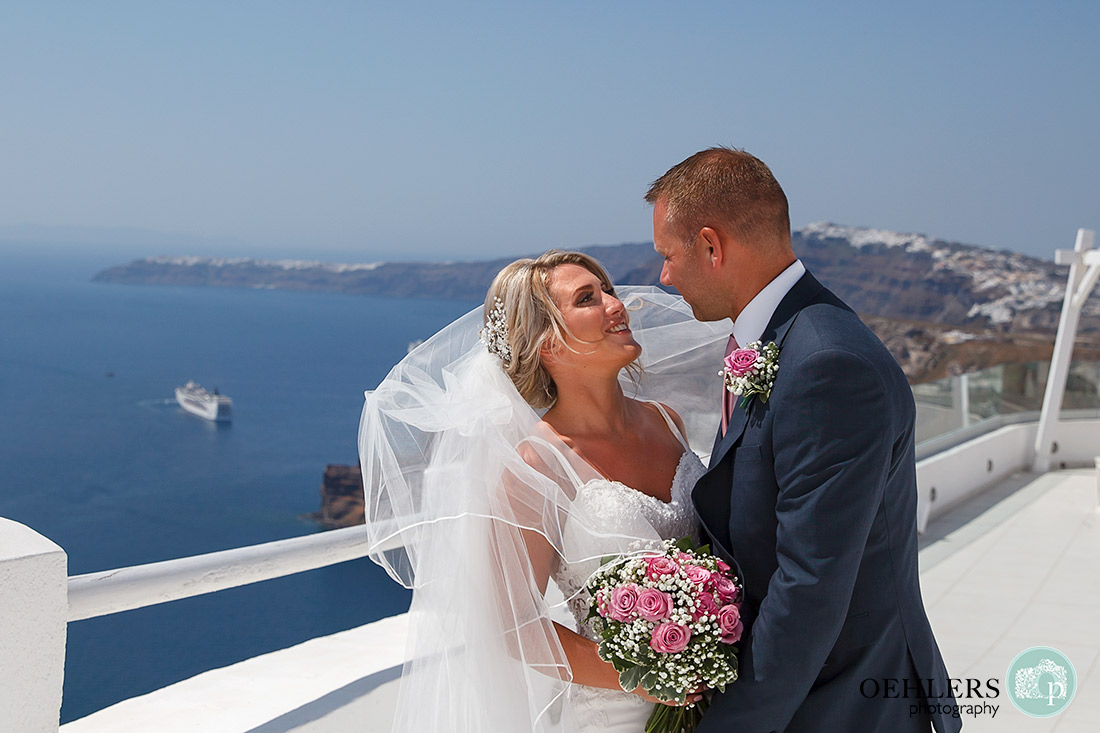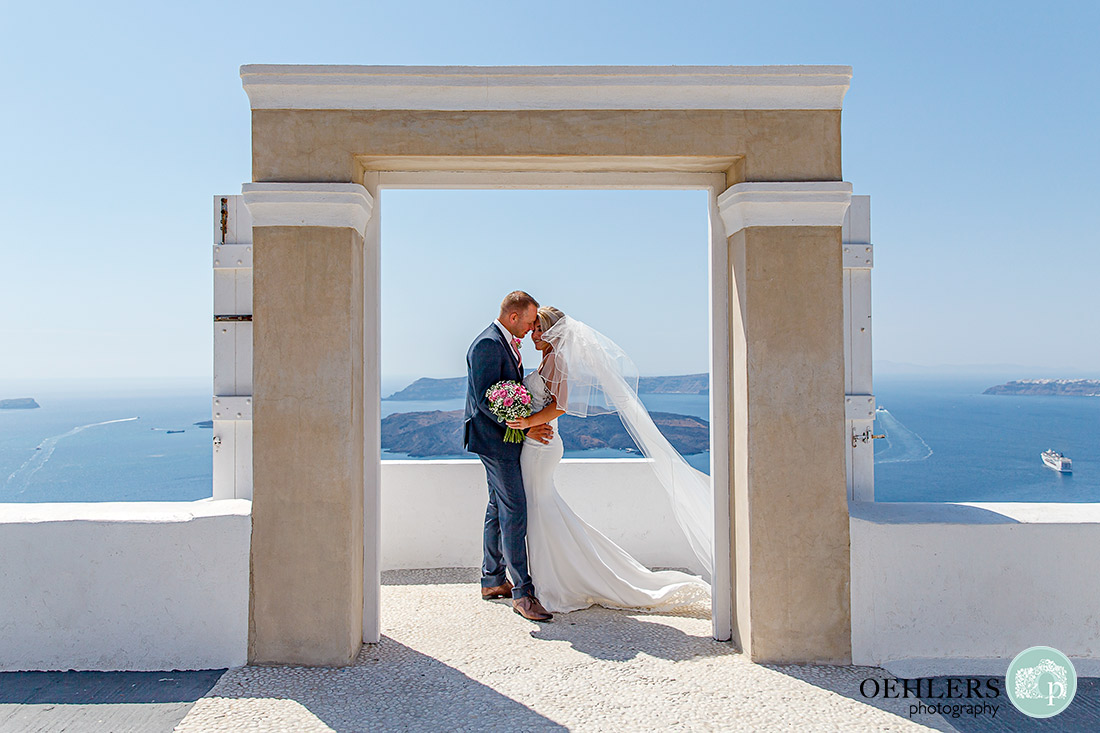 Megalochori Village.
After the wedding ceremony we took Katie and Adam back to Megalochori to do the couple wedding shoot. The village is little known to the tourists so we were lucky to have it, virtually, to ourselves.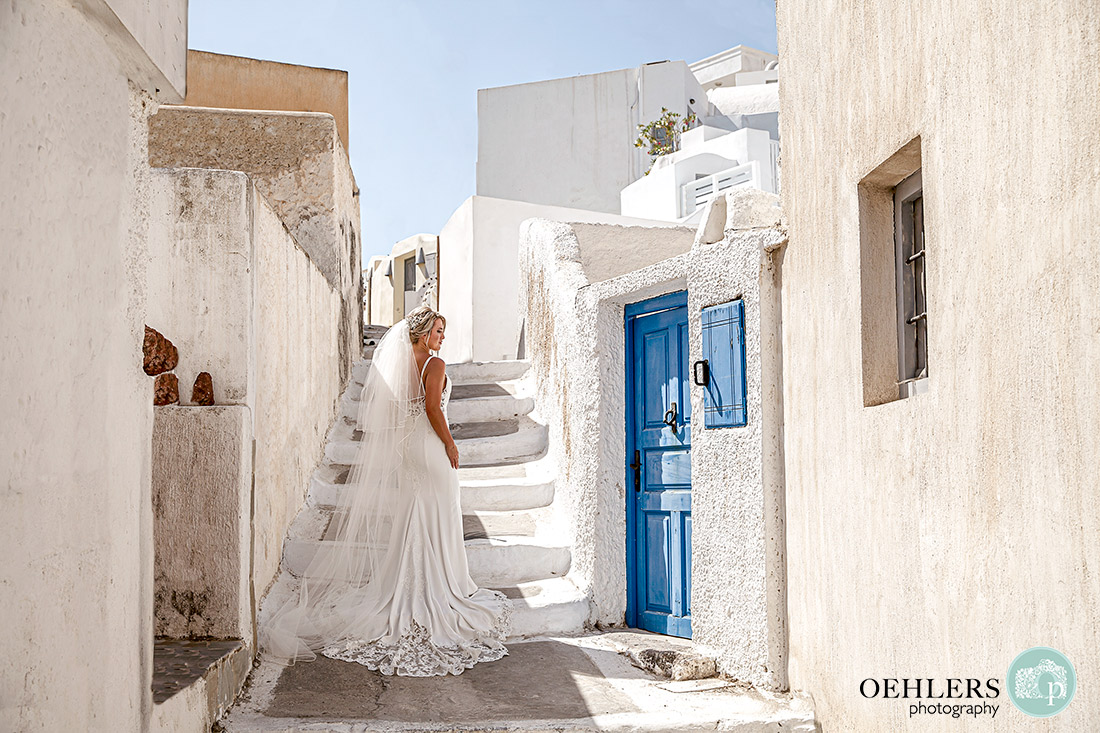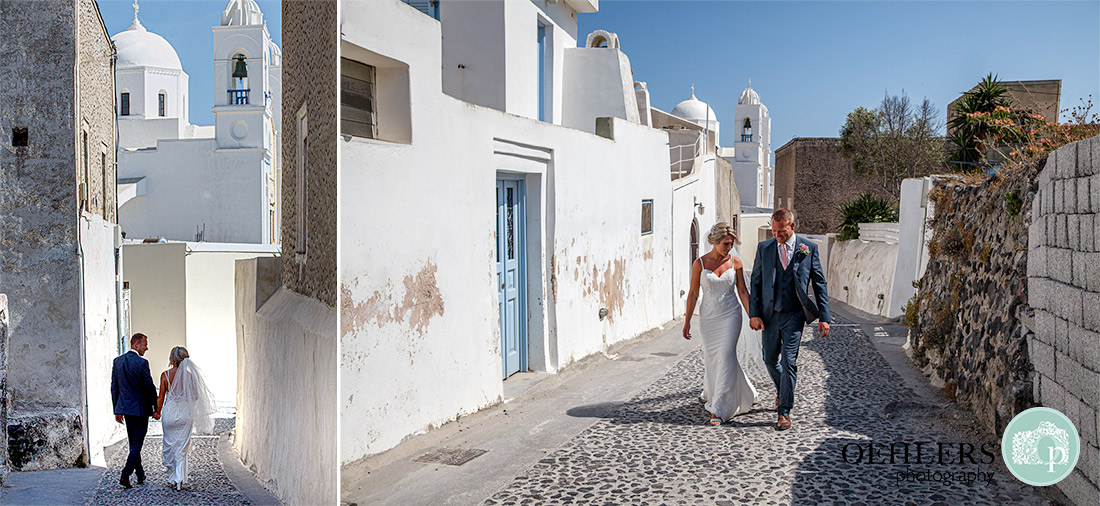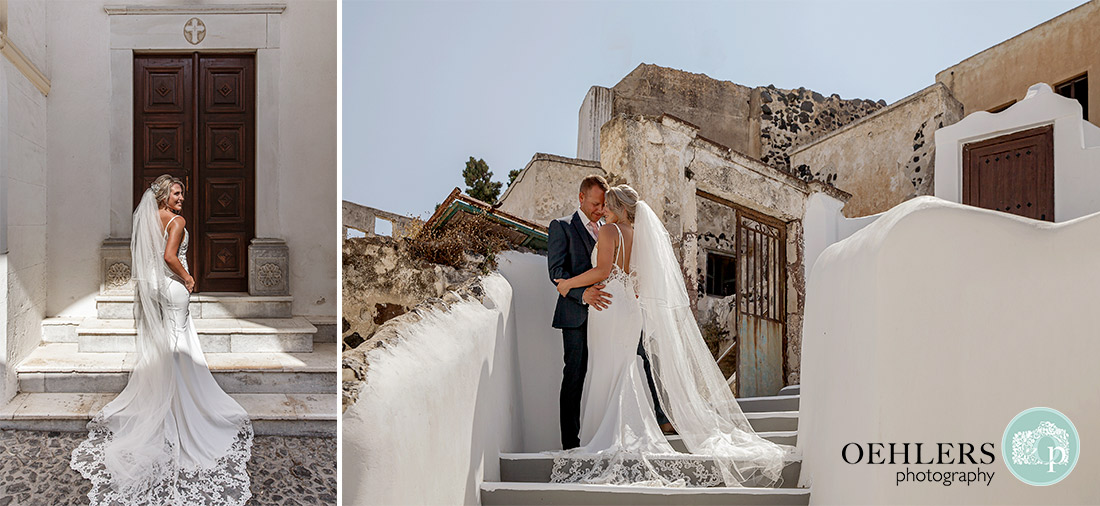 Wedding Reception – Pyrgos Restaurant.
Pyrgos Restaurant is located only a few miles away from Santos Winery. It is an ideallic place to have a wedding reception with endless views overlooking the island.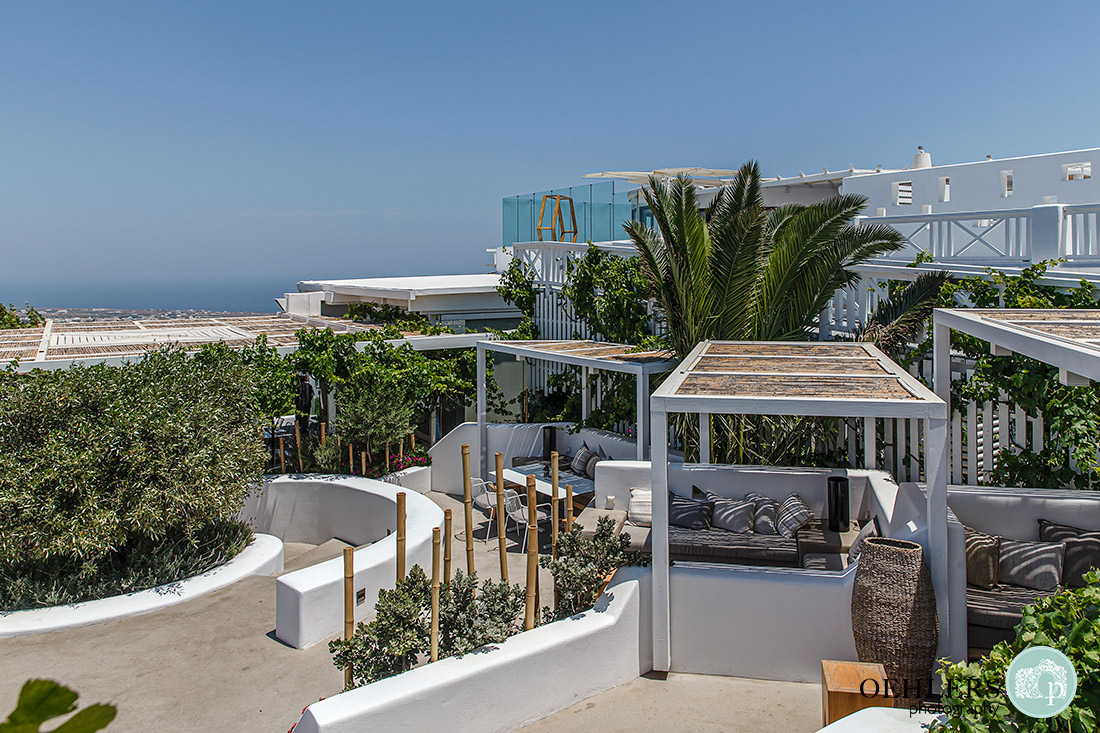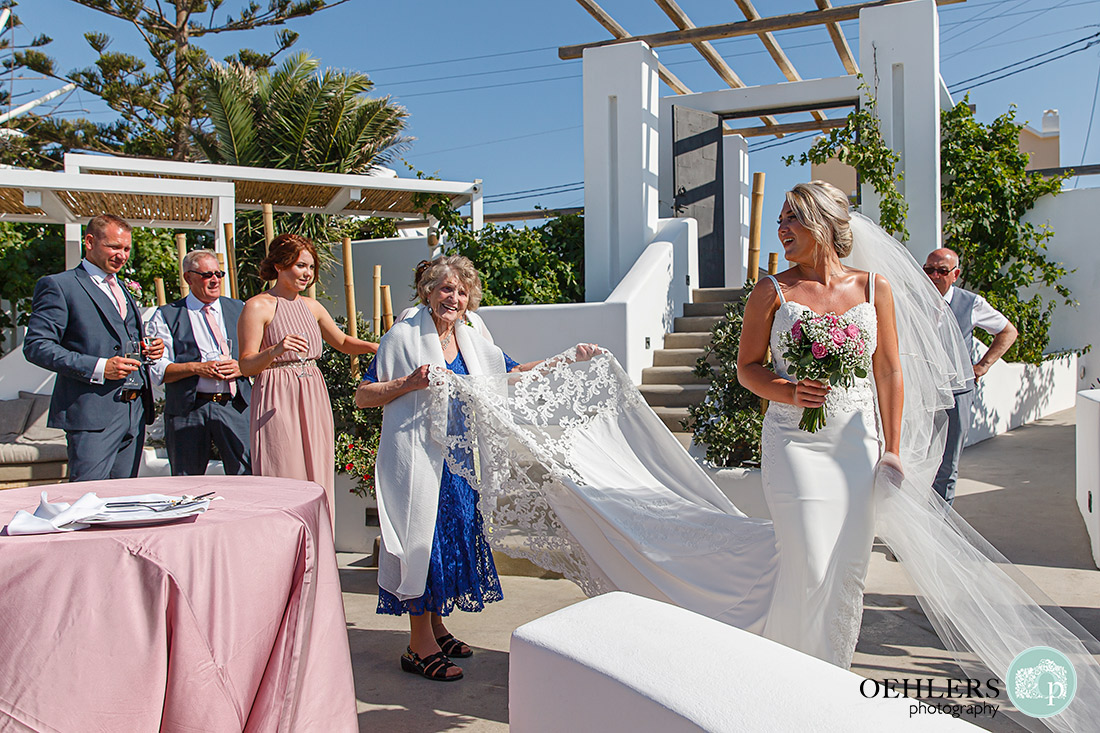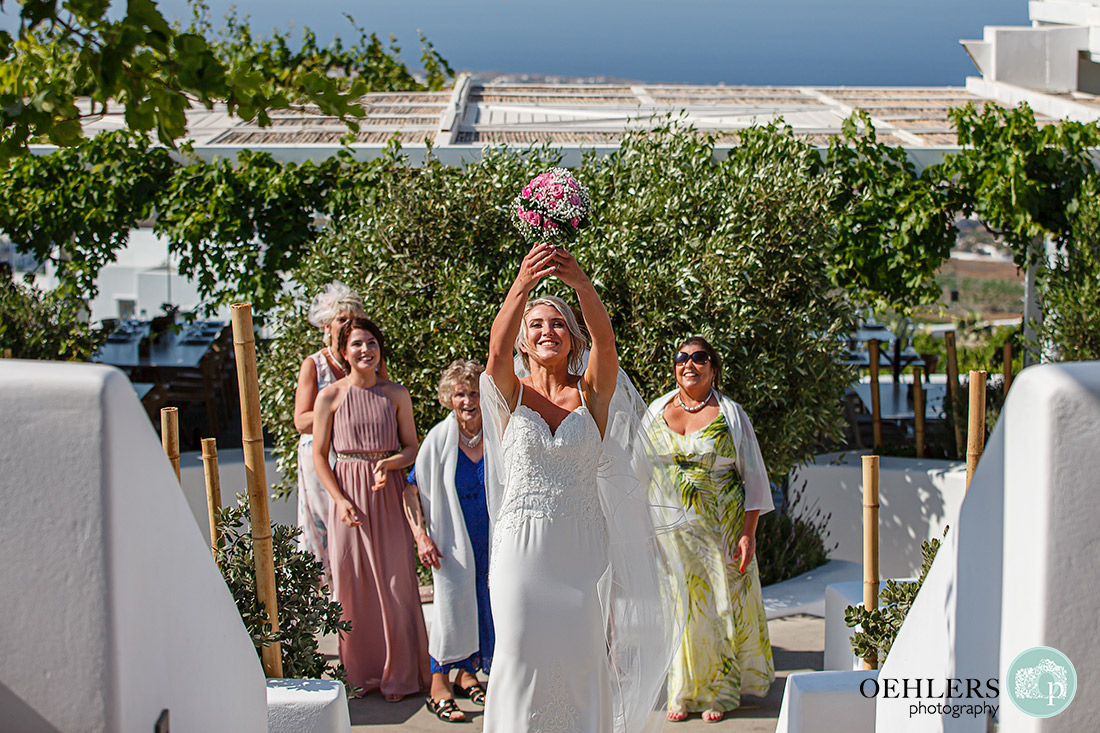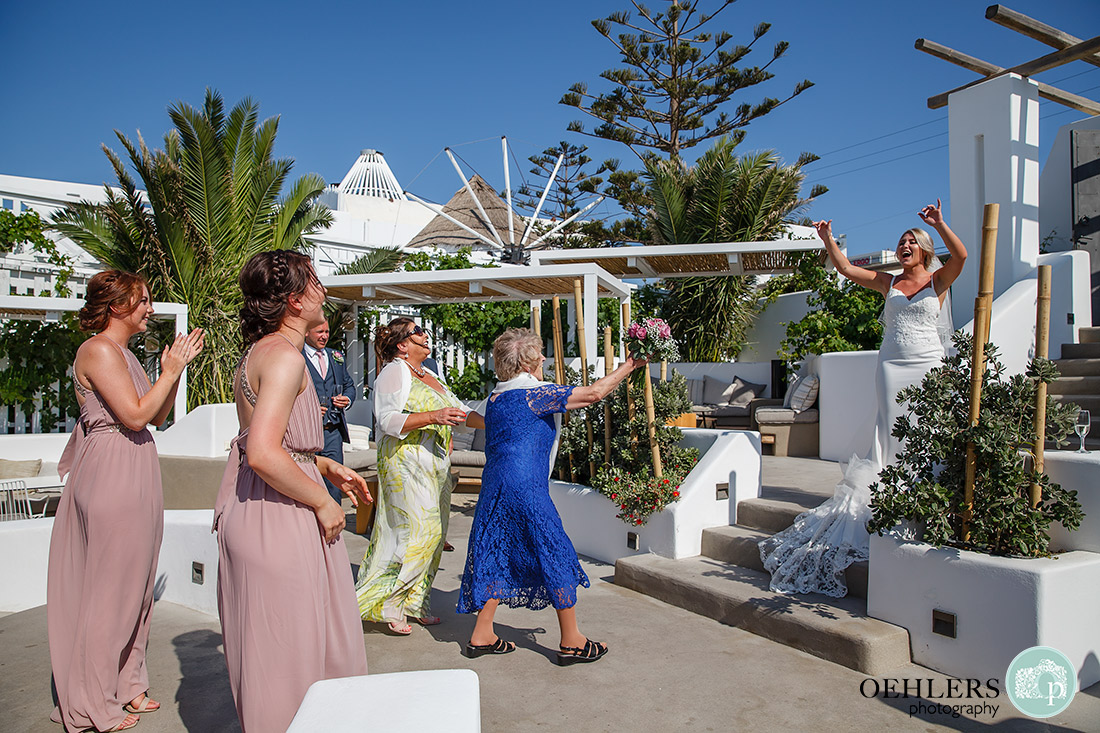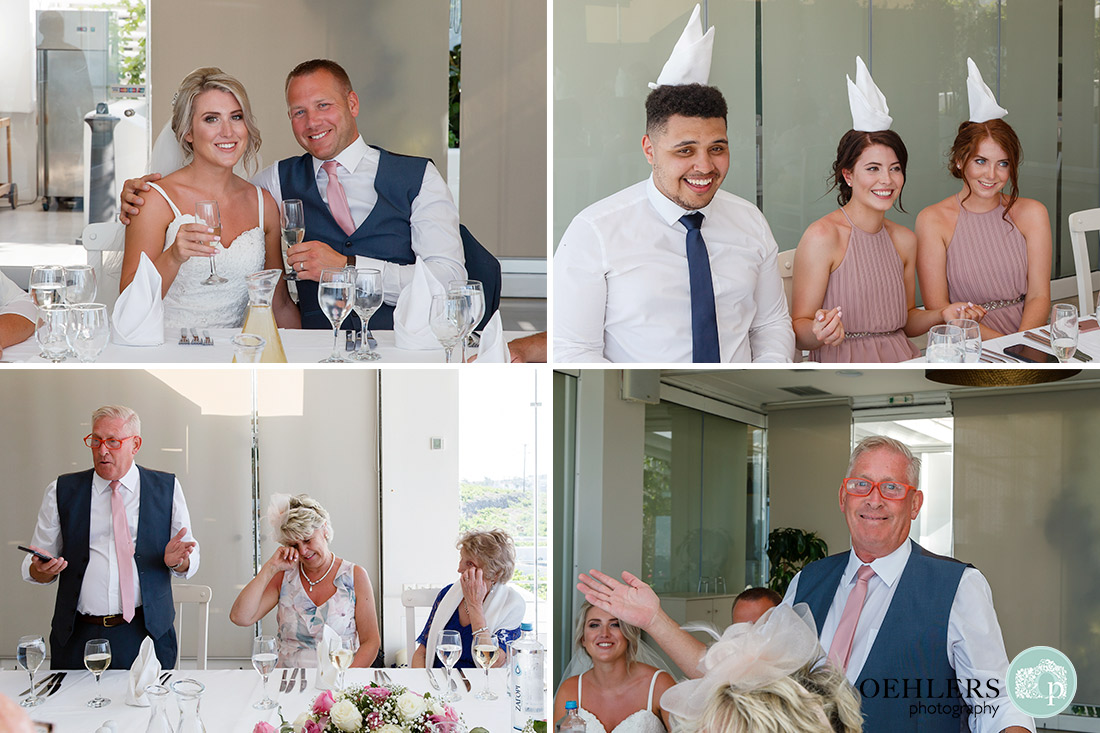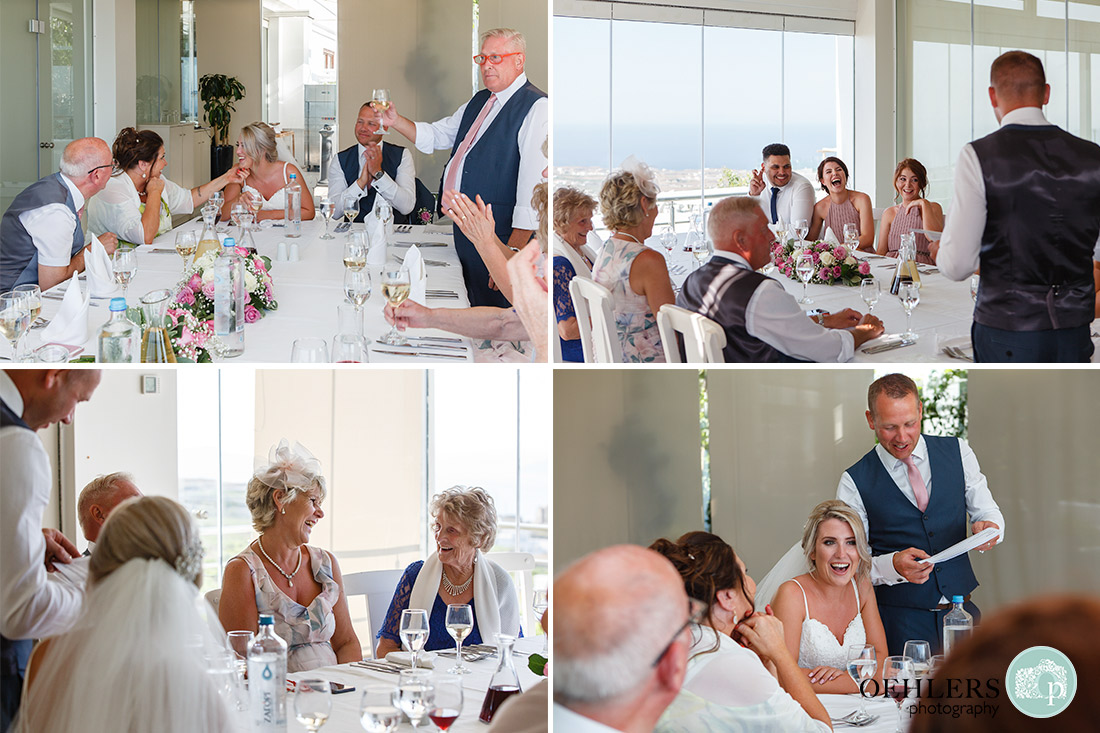 Imerovigli.
Santorini is very well known for its spectacular sunsets which we wanted to capture with Katie and Adam. At Imerovigli there are loads of viewpoints where photographs of the sunset with them in situ can be taken. The day before we walked around the town to find locations where we could take the photographs so that on the day we knew exactly where to go. This helped a lot as sunsets don't last for very long. We were very pleased with what we managed to photograph, including a post sunset shot when the moon came up in all of its glory.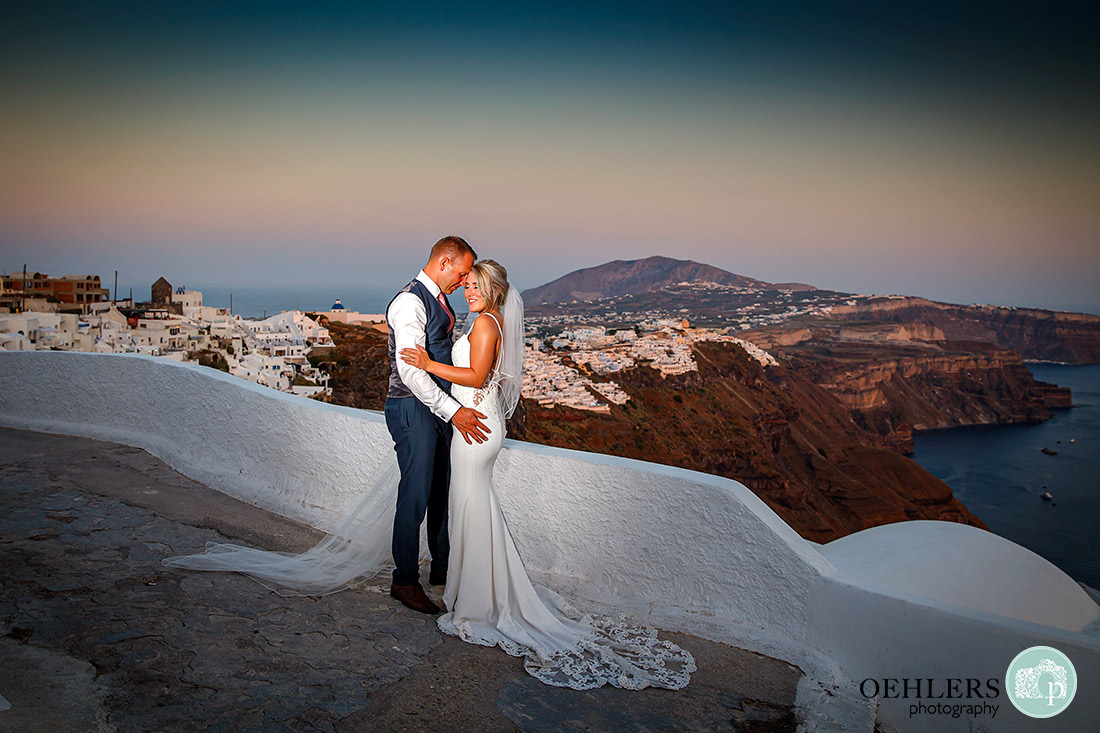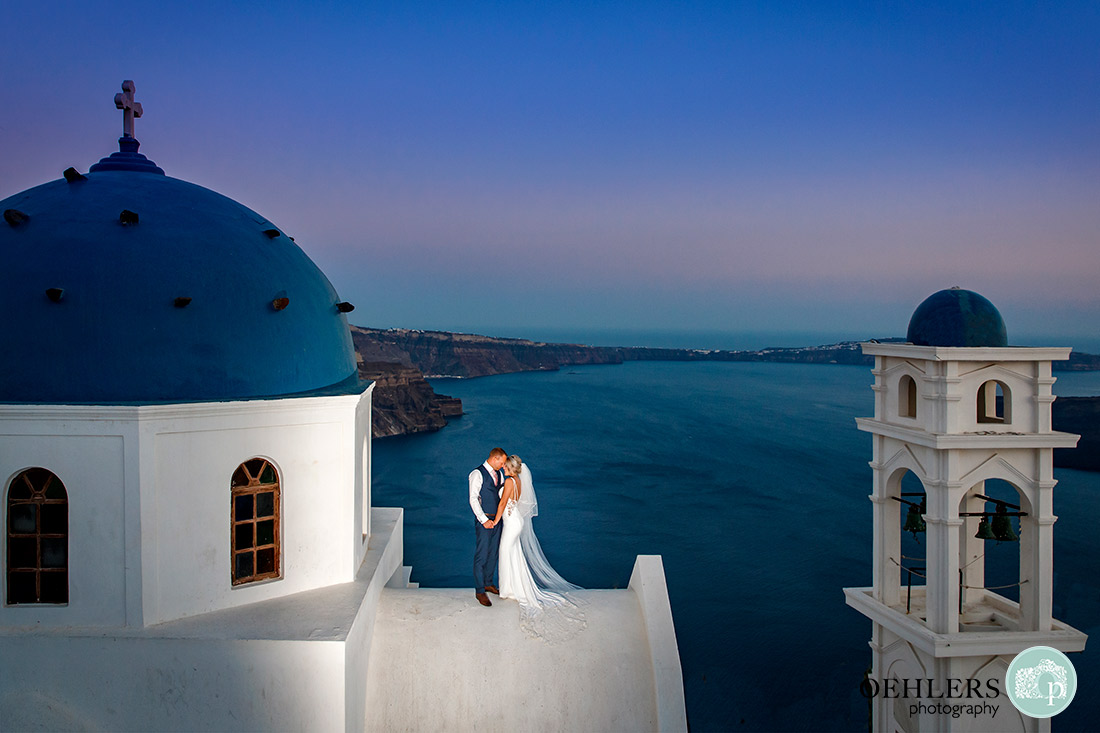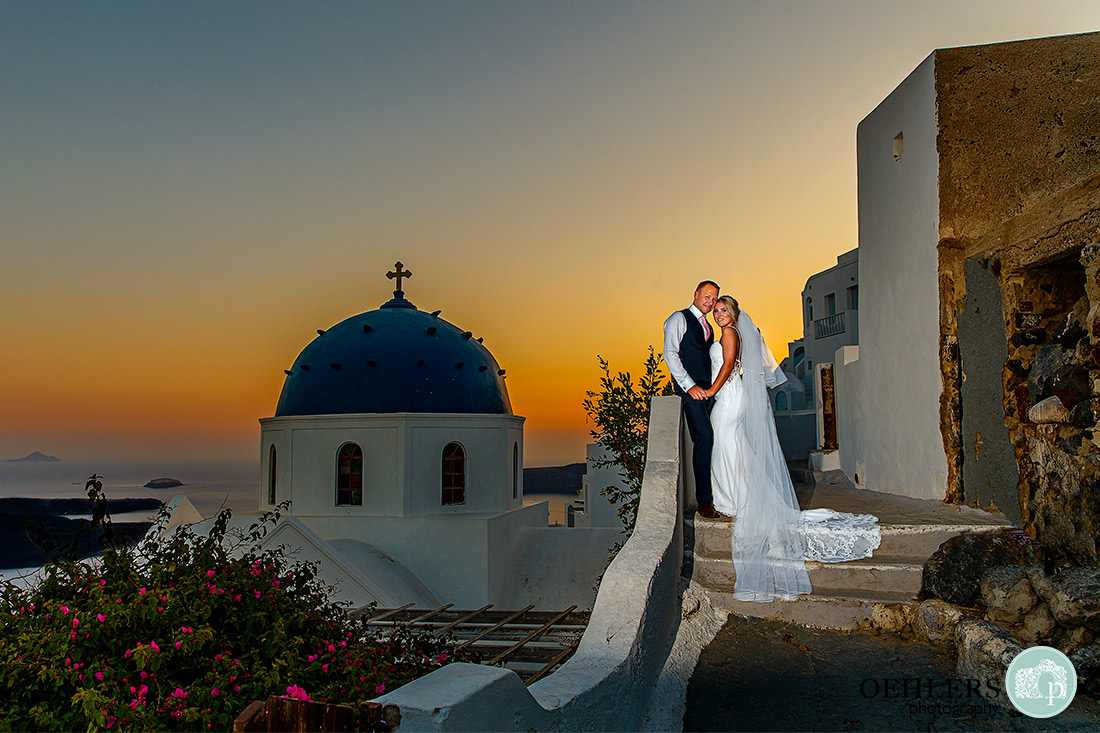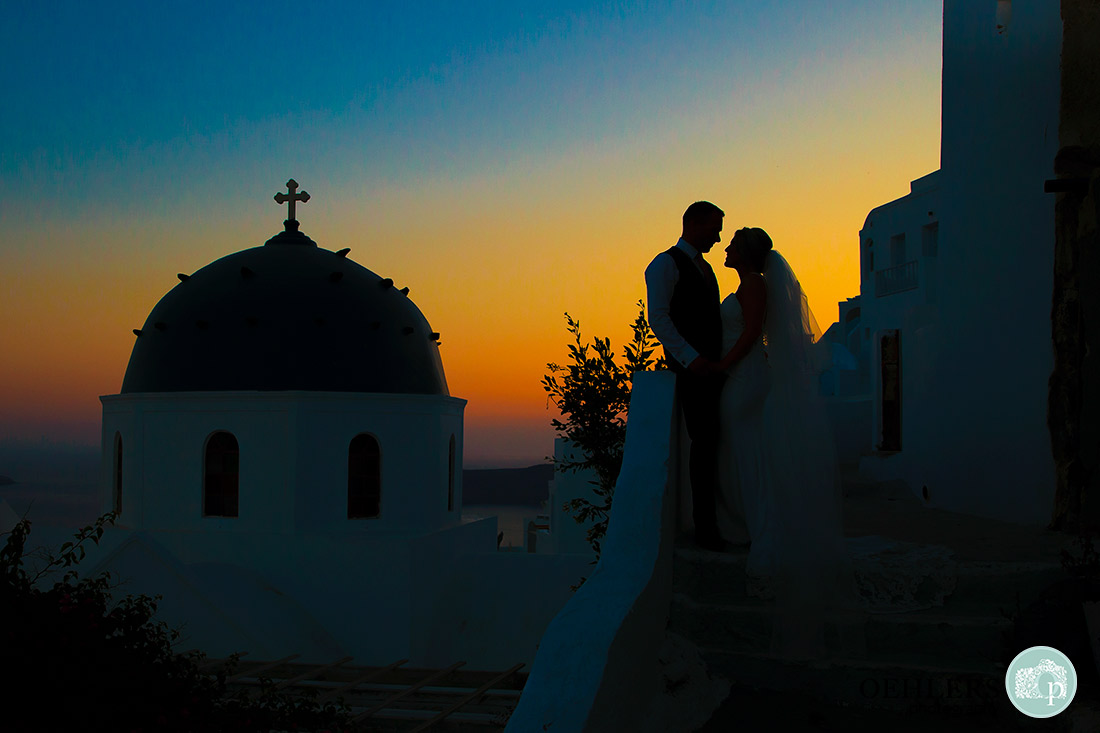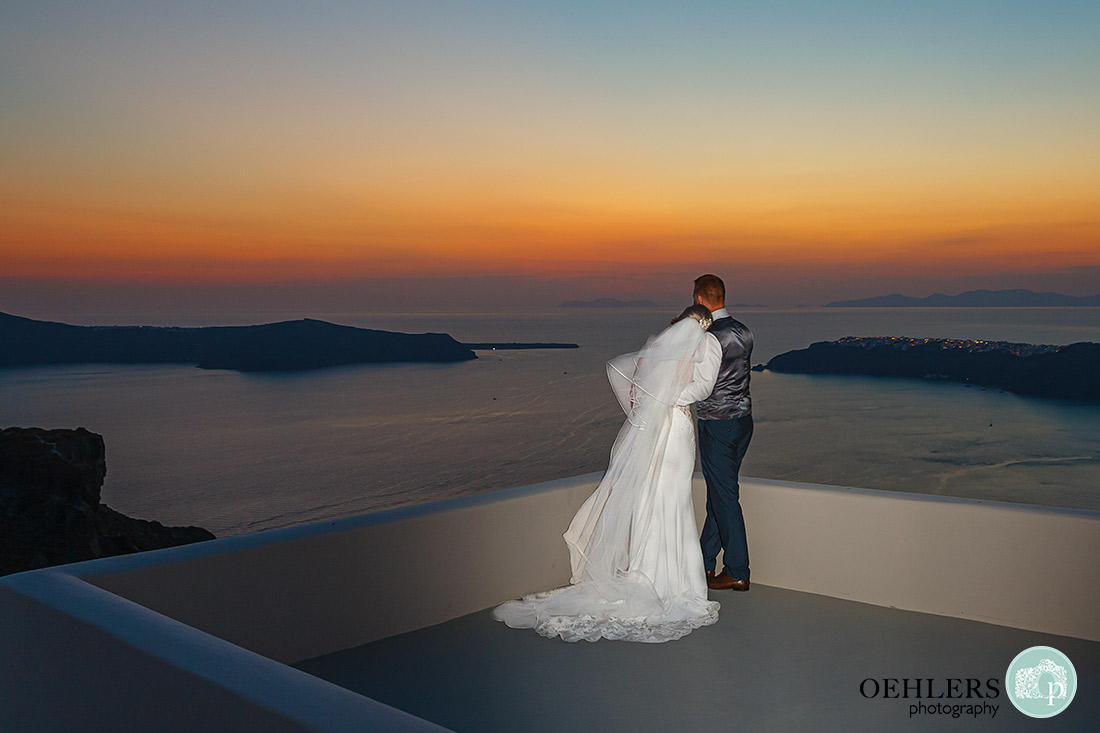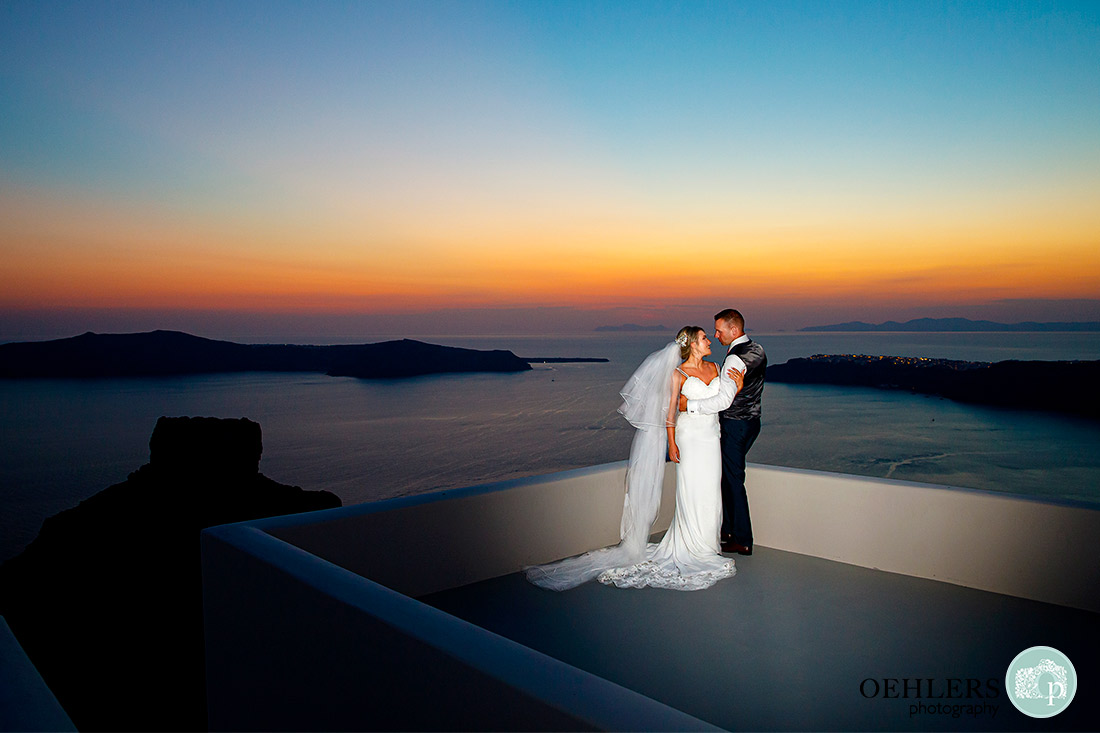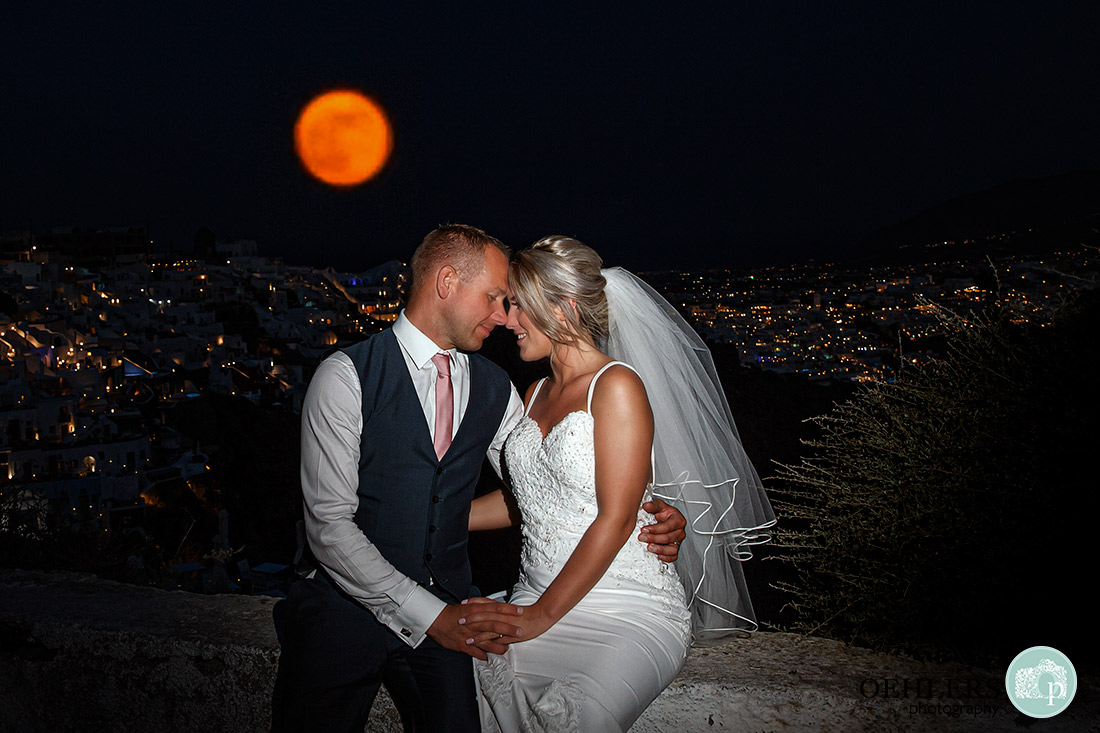 All images © Cathy and Brian – Oehlers Photography, Nottingham wedding photographers. More photographs of this post and other destinations can be seen in our Destination Portfolios.
If you would like Oehlers Photography to be part of your wedding day contact Cathy via this link or call 07817657041.
Related Posts